Highland Dance Company of NZ - "Journey of the Celts" Concert Tour
Journey of the Celts production will showcase the Highland Dance Company of NZ and will tell the story of the journey of the Scots to New Zealand and the preservation and growth of their cultural heritage.

The dance pieces will reflect the blend of many New Zealanders ancestry - Celts to Aoteoroa.

Local dancers in each area are invited to apply to be involved in the performance in their area. See Downloads for the application form. Applications close 29 June 2013.

The show dates are Blenheim, Floorpride theatre, Thursday 29th August at 7 p.m. and Christchurch, The Grange Theatre, Saturday 31st August at 2 p.m. and 7 pm. Ticket prices are Adults $25, children under 14 $15 - tickets available from Ticketdirect outlets or online www.ticketdirect.co.nz or 08004tickets after 14 June 2013
Congratulations to Helen McKay on her Queens Service Medal
Congratulations to member Helen Mckay from Tuatapere after she was awarded the Queen's Service Medal in the recent Queens Birthday Honours List.

Helen's services include 55 years of teaching Highland Dancing in Tuatapere and surrounding districts. She organises dancing displays for community events and holds annual Highland Dancing competitions in the town.

She is involved with the Waimatuku Pipe Band's annual fundraising concert in Invercargill and was chairman of the Tuatapere Resource Centre committee.

She is also a member of the Western Southland Integrated Rural Development Committee and assisted in establishing a Tuatapere Information Centre and the Bushman's museum.

She has been a Hump Ridge track volunteer since 1985 and has been involved in organising and volunteering at numerous community events.

Congratulations from the Executive and Members of the NZ Academy of Highland & National Dancing (Inc)
Sailors Hornpipe Syllabus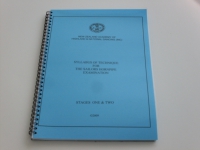 The Sailors Hornpipe Syllabus is now available separately from the website store.
Stage 1 syllabus and Cd = $36
Stage 2 syllabus and Cd = $36
Dance Company auditions for NZ Got Talent show
The Highland Dance Company has been invited to audition for this years series of NZ Got Talent.

As a promotion for the Christchurch auditions they will be performing live on Breakfast TVon channel 1 this Monday morning 6th May at 8.40a.m

Letters after your name
Once you have qualified for your Diploma you can use the letters MNZAHND after your name. This replaces MAHND
Exam certificates
From May Examinations candidates certificates will be sent directly to individual teachers instead of being sent to the Area exam organiser for distribution.

IMPORTANT ANNOUNCEMENT - EXAMINATIONS
In the December Newsletter, information relating to possible changes to our Examination Grading System was inadvertently announced. The intention of this information was as a discussion point for the Joint Meeting of Techncial and Executive. Executive apologise for this mistake and acknowledge correspondence received from members. It will be, as was the original intention, a topic which will be on the Agenda for discussion at this year's annual conference. This will enable all members the opportunity to discuss the merits of any change to the present Examination Grading System. We will announce in the August Newsletter the preference of the Executive Council and the Technical Committee.

Therefore, there is no change to the Grading System presently used from Initial to Advanced and all Pass Grades will remain in place for the 2013 year.

As a good will gesture, we are prepared to extend the closing date for Initial and Preparatory only , until 13 March. This will give the opportunity for teachers who did not enter candidates in these grades because of the proposed change to grades to now do so.

Executive sincerely regrets this oversight.
2013 Highland Dance Company of NZ members
The Executive annouce the members of the Highland Dance Company of NZ for 2013

Kylie Allison-Miller, Niamh Blackman, Rachel Bates, Brittany Carlton, Rachel Crampton, Emma Cropper, Emma Denney, Jessica Findlay, Lewis Gibson, Sarah Gluyas, Ella Rose Hammond, Nicole Harding, Nicole Harvey, Angus Hendry, Courtenay Henshaw, Sarah McQueen, Isabelle Merwood, Shirana Rengasamy, Danielle Pope, Sarah Robson, Rosa Sangster, Serena Sangster, Sara Simmons, Leighton Terry, Sam Tait, Kate Wills, Jayden Withington.