How It Began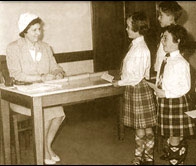 The Academy came into being in 1946 on the initiative of Mr Ian Cameron, OBE, MBE, C.St.J. and with the support of the Piping and Dancing Association of New Zealand. We were most fortunate to have the interest and active co-operation of Mr Peter Fraser, then Prime Minister of New Zealand, and a proud Scot who had been a Highland Dancer in Scotland. Mr Fraser arranged the assistance of the Department of Internal Affairs which was most helpful in both administration and research.
It is important to note the huge scope and extent of research and the notable people concerned in it.
Our founding principals, Mesdames May Wilson and Fassie Cameron were both taught by renowned Scottish exponents.
Mrs Wilson's teachers included:
Miss Stella Glennie (bent knee style)
W H Kilgour (straight knee style with a technique based on five foot positions and five arm positions, development and elevation exercises)
Polly McLaren
W E Boyd
Duncan McLennan (brother of D G McLennan). On travelling to Edinburgh in 1924 Mrs Wilson received two lessons a day from D G McLennan.
Mrs Cameron's teachers included:
* Pipe Major Charles McDonald
* Major R W Haddow
* Mitchell Darge of Scotland (connections to the McNeil family)
* Polly McLaren
* Duncan McLennan
The foundation members of the Academy and their associates were given the following brief:
"To set a recognised standard of work and to establish a higher standard of judging and teaching. To enable judges and teachers to be credited to the full extent and have their ability recognised. To enable students of the work to carry out higher studies and qualify for examinations without necessarily having gained their reputation on the competition boards. To have our work regarded on the same plane as other recognised arts. To write an authentic history of the work in order that students can gain a fuller technical knowledge of the art which will enable them to interpret the true story of the work, written in music and dance."
Numerous meetings were held in 1946 and basic techniques were laid down by Mesdames Wilson and Cameron and associates, Mrs Colleen Parker and Miss Muriel Waugh. Early in 1947 further associates were appointed, Miss Gwenyth MacNaughtan, Mr R W Haddow, Miss Beryl Quay, Miss Raye Wright and Mr Dan McKechnie. Later Mrs Hazel Scott, Miss Betty Carnochan, Mrs Joyce Williams, Miss Coila Barrowman and Messrs Donald Bruce and David Bothwell were appointed.
We were most fortunate that so many of our early members had received tuition from knowledgable and great dancers including the McLennans, Willy Sutherland who emigrated to New Zealand, and Mr R McNiven Cuthbertson dancer and teacher in Scotland. The Academy today, can stand assured that our art has evolved from impeccable sources.
In 1947 the first booklet "Explanatory Note on Highland Dancing" was issued by the Academy. The first examinations were held and we had our first President Major R W Haddow, taught in Scotland by Pipe Major George Douglas Taylor.
Until 1949 the Academy operated as a committee authorised by and subject to the Dominion Council of the Piping and Dancing Association of New Zealand. By 1949 a Constitution had been prepared for the Academy and it became an incorporated society in its own right. Its first stated objective was:
"To foster and encourage under the sponsorship of the Piping and Dancing Association of New Zealand (Inc) Scottish and National Dancing in New Zealand or such further or other place as the society in general meeting may from time to time determine."
Thus the Academy retained its relative position with the
Piping and Dancing Association
.