Change of Breakfast speaker - Conference
Due to rugby commitments Jorja Miller is no longer able to be our Guest Speaker at the Sunday morning Breakfast session at conference.
We are fortunate that Dame Farah Palmer has accepted an invitation and is able to join us as our Guest Speaker.
Farah has a PHD in Sport Sociology and played and captained the Black Ferns to 3 Rugby World Cup victories. Farah also was a Highland Dancer from age 5 to 11 in Pio Pio!
Whilst we are disappointed that Jorja can no longer join us we look forward to welcoming Farah to our breakfast session.
Conference Registrations
A reminder to members that to receive the discounted rate for Conference you need to have registered and paid by 31 July.
Registrations received by 31 July will go into a draw to have your conference registration fees refunded.
Expressions of interest - Photographer - Conference
Expressions of Interest – for a photographer at this year's Conference

We are looking for someone attending conference that would be available/interested in taking the photos of our Diploma and Award Presentations at the Saturday evening function.

This would take approximately 1 hour and dinner at the function would be included.

If you are interested can you please send your expression of interest to the Academy Secretary – admin@nzahnd.org.nz by 21 July.


Highland Dance Company of NZ - 2023 Auditions
Highland Dance Company of New Zealand
2023 Auditions

The Academy is calling for auditions for the Highland Dance Company of New Zealand.

The Application Form and Application Conditions can be found on the Academy website - in the Resources/Downloads section.

Please note that applications close 30 June 2023.
Kings Birthday Honours
We extend our congratulations to Sherilyn Hall for her inclusion in the Kings Birthday Honours receiving the "Member of the New Zealand Order of Merit" for services to Highland Dancing.
Virginia tattoo blog - day 10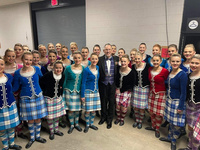 Sunday 23rd April

We started our day very much as a lazy Sunday with another much needed sleep in, followed by breakfast and a quick waiata practice to get those vocal cords moving.

We then headed off to the Scope Arena to prepare for our final show, where we also managed to fit in some fun "trading" with other performers, and of course maximise photo opportunities for life long memories.

We finished our day with a fabulous team dinner in celebration of everyone's hard work and dedication over the trip towards our performances. Now heading off to bed before a long bus trip tomorrow!

Keighley and Rachel
Virginia Tattoo Blog - Day 9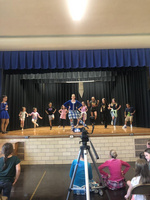 This morning we started the day by walking to our favourite breakfast place Cold Pressed to get our bagels and smoothie bowls. We then walked to the arena for our matinee show for all the very excited school kids.
Half of us then travelled to Mary Calcott Elementary School to perform a broadsword dance, sailors, seann, and Irish reel for the kids. We taught them how to do some simple dance steps and they absolutely loved it!
We then performed our dances at the Hullabaloo festival and performed our last show for the day. Lots of parents were in the crowd and it was nice to see an NZ flag being waved around. We are now recovering from another big day back at our hotel.
Ariana & Mhairi
Virginia Tattoo Blog - Day 8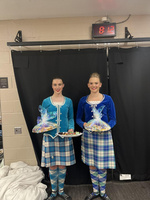 Saturday 22nd April

This morning we all had a much needed sleep in before a big day of shopping!
We all got some breakfast and walked to Scope Arena to get picked up and taken to the Norfolk Premium Outlet Mall (a very successful shopping spree 🛍️).

We had a team lunch/dinner at California Pizza Kitchen and then headed back to get ready for our second to last show of the trip. We were very happy when the Choir brought us some sweet treats in between our dances.

Due to the rain we were driven home and are now off to bed, getting rest for our final show day!!

Lots of love,
Olivia and Ella ✌️