Academy Technical Training Course - Step Dance - Christchurch 29 February/1 March 2020
The next ATTC course on Step dance is planned for 29 February /1 March 2020 in Christchurch, if you are interested in attending could you please advise the Academy Secretary by 03 February. admn@nzahnd.org.nz
Cost $250.
Nelson Highland Dancing Exam workshop
Nelson Highland Dancing Association are conducting an Exam workshop on Sunday 29th March in Nelson with Kimberley Mavor as the tutor
See Downloads for information and enrolment form
Belgium Tattoo Blog 7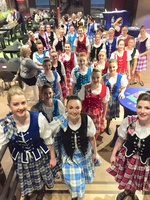 Friday 4th October
Up we got, nice and early, off to one last rehearsal before our first show in Ostende. We arrived at the arena, which was a lot smaller than the arena in Rotterdam - but still just as great! After some spacing re-adjustments and a rehearsal outside in ice cold wind, we went off to tease our hair and prepare for the show. It was great to have the first performance of the Gael out of the way, once again dancing to the massed pipes and drums. The Kiwis, Canadians, Scottish and Belgian dancers looked great in their Aboyne outfits with all sorts of lovely tartans. Despite having to rush onto the stage for Hellbound train (they didn't give us a cue....) we handled the slight hiccup like pros 💁🏻‍♀️! We were well and truly ready for bed, off to do it twice over tomorrow!
- Eve and Danielle

Belgium Tattoo Blog 6
Blog 3rd October Today we got back to reality with another jam packed rehearsal day. We shovelled down our breakfasts then set to work walking through the maze of houses that make up the sunpark. Making the most of the large spaces in the Sunpark reception building we started rehearsal on Hellbound Train. Although familiar to those of us who danced in Rotterdam last weekend, we had 8 new dancers from Scotland join us so plenty of practice was needed! We soon outgrew our pilates room - with its floor to ceiling beams in the middle that some people had the pleasure of playing dodgers with - and took over the tennis court for the afternoon. This was mainly spent rehearsing a new item - The Gael. After plenty of hours on our feet we were treated to a couple of hours rest which the more thrill seeking ones spent at the free onsite Aquapark, soaking in the hot tub and sliding down the hydroslides. This was followed by an impressive buffet dinner. Many of us instantly regretted overeating, as it was announced that we were to head straight back to the tennis court for the evening rehearsal session; just as some of us were finishing the last mouthfuls of sprinkles and syrup covered (self poured) ice cream. With a bit of polishing and spacing complete we headed off to bed ready for an early start for rehersals and our first show in Belgium tomorrow!!
Sarah and Isabel


Belgium Tattoo blog 5
2nd October
Today was another sightseeing day and that means starting with yet another long bus ride. After waiting for a second bus (because the first one was too small) we travelled to Brugge to commence our walking food tour. We were split in to two groups of a nine and an eight, and spent the afternoon enjoying the well known foods of Belgium. Some of which included cheese, beer, sausages, fries, waffles, meringues, chocolate and fish (for those who were brave enough to try it). We then had extra free time to do any shopping before we began our short trip to Oostende. When we arrived in Oostende, we had to take a 15 minute walk to our villas. We had dinner in the reception restaurant before a much needed early night.
Abby & Ariana
Belgium Tattoo Blog 5
With a 9:30 start we were ready to head to Brussels. However, our bus didn't arrive until midday! After a 2.5 hour bus ride we arrived in Brussels and checked into our hotel before walking to the local train station to catch a train into the city. Once in the city we met our bike tour guide Marie before riding around old and new Brussels for 3.5 hours. We saw the little boy peeing, European Parliament and tried some Belgian frites. After the tour we all set off around the Big Square to try some chocolate and waffles before heading back to our hotel for the night to get ready for Brugge!
Belgium Tattoo Blog 4
30th September
With an early start to the day to fit everything in, our first tourist desination was the Anne Frank house. This gave us all a surreal insight of what it was like for Jews in earlier times through self guided tours. Surprisingly the rooms where they lived hidden in for 2 years were quite large, although it would have seemed small for 2 families to live in for that long. Then afterwards off we headed to our boat tour, which travelled through the canals of Amsterdam. After finding a little bit more about the history, traditions and architecture of Amsterdam, we hopped of the boat and were parted in different directions. Some plucked up the courage to go on the highest swing , the AD'AM lookout while those not so keen, headed off to the shops. For those headed to the shops, navigation was difficult due to all the roads looking very similar and having to avoid being run over by numerous bikers. Dinner came round fast after everyone's successful, relaxing and enjoyable afternoon where we met at Humphrys for a traditional Dutch meal. To continue with the tradition, we finished off the night with an uncomfortable experience through the red light district. Amsterdam was definitely an experience to remember and come back to!

Belgium Tattoo blog 3
28th September:
The pressure was on today as we had a royal audience - the king of the Netherlands. Our matinee show went smoothly as we performed for the second time in the stadium. The evening show began with some re spacing due to last minute injuries - however this didn't affect our flawless performance which came. After we all ate our weights worth in yummy Dutch snacks - we got onto our bus ride home while still buzzing from the nights performance.
29th September
Sunday was our final show in Rotterdam, and we were all feeling a mixture of relief, sadness at saying goodbye to the scottish girls, as well as excitement for our upcoming travels to amsterdam and belgium. There was a buzzing atmosphere backstage throughout the matinee, all the performers smiling and taking photos together as we congratulated each other and said our goodbyes. We thanked our awesome liaison Fred for all his help during our stay, all of us dancers contributed a small amount towards a personalised t-shirt as well as performing a waiata as a big kiwi thank you. We hurried to pack up all our costumes to then get on the bus back to a barbecue hosted for all the tattoo performers. After a massive dutch feast we hopped back on the bus heading to Amsterdam- despite being exhausted from the 5 Rotterdam shows, we were all excited and full of energy once we hit the thrilling and bustling city.