Virginia tattoo day 8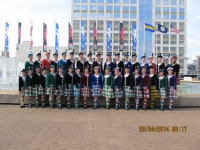 We had a early start at 5am to prepare ourselves for the dawn service for Anzac day, gathering with the Aussies at the MacArthur memorial where Mac Arthur and his wife were buried. It was a lovely service apart from the fact they must have forgotten that we were coming and didn't play our national anthem, so we had to sing it. The service was followed by a yummy breakfast.

For the evening show Elenor came up with a brilliant idea of wearing our poppies on our highland jackets, when one American dancer asked what Anzac stands for, a group of dancers explained to her with one New Zealand dancer saying "I didnt even know that", so news travelled fast amongst the pipe bands and then a piper came to our dressing room and played our national anthem seeing as we were forgotten about at the dawn service.

Later that night, the 18 and overs as well as all the American dancers, had a fun night out at 'the Banque' which was a country line dancing bar, while the under 18's had an early night in.

Written by Lisa Claridge and Jessica Miller.
Virginia tattoo day 6
We started the day with our first dress rehearsal performed in front of students. This was a lot of fun as most of the girls either had never worn much makeup if at all and the others were talented make up artists. As our gorgeous girls got used to their new faces and learnt to do a bun on top of their heads we did our best with a good performance even with flipping a targ (shield) and picking up the wrong lanterns.

After this we madly rushed and organised some dances at an elementry school while the kids screamed in applause for the girls and so the girls spent some time with them and showed them our outfits and taught a step or two. We then went back to the sope arena and did another dress rehesrsal performance in front of special needs kids and they adored us too. Finishing at close to ten the tired girls were happy to see the hotel, and go to sleep.

Written by Tess Pilkington.

Virginia tattoo day 7
Well…..7:30am wake-up call ready for another day filled with performances. Our first show today was for some of the local schools and the second performance was for the public. Long line of girls, waiting for Mariel to do their eye make-up as we get ready for the shows. At 5:30pm the girls got into their Irish outfits, ready for the Hullabaloo. We performed the Irish Reel, Irish Hornpipe, Irish Jig and the Double Time Jig. The crowd loved us and took many photos after the performance. Then it was time for our first real performance. After each dance had an award ceremony in our dressing room, for the girls with the best smiles and overall presentation. So far the best have been, Holly, Emily, Brittany, Lisa, Jessie, Danya, Hannah MCRae and Lizzy. Well done Girls. Eleanor said that it was the best first performance EVER!!!
Tomorrow we have a very, very early morning with the ANZAC Dawn Service, followed by two more performances.
From Leah Cammell and Brittany Kirk


Virginia Tattoo day 4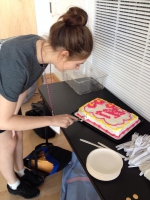 A nice way to start off Brenna's birthday was a much anticipated sleep-in as we didn't have to start our dance practice until 12.00pm. So the chaperones let us loose in the local mall. As you can imagine, the girls shopped until they dropped. We then set off to the Virginia Performing Ats Centre to begin our practice. At the end of our practice, we surprised Brenna with a delicious birthday cake.

At the Scope Arena we ran through our dances which are really coming together as we are now using props, facial expressions and dancing with the bands. It is amazing to think that after all of our performances we would have danced in front of 48,000 people! After 6 degree weather, rain and grey clouds, the weather turned around as we had sunny, blue skies. We were all mind-blown to think that we are performing with people from all over the world and to see all of the different cultures conforming together to complete the Virginia Tattoo. We are looking forward to whatever tomorrow brings us and we are really enjoying this experience.

Once again Happy Birthday to Brenna (Or yesterday for those in NZ) Bye for now from Hannah M., Nicola and all of the girls.
Virginia tattoo day 5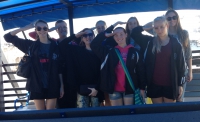 Day 5
Today we had a pretty chill morning with free time till one o' clock. Some headed off to the mall to shop even more while others took a cute little boat trip to Portsmouth. The dancers on the boat enjoyed their little excursion and put on a small performance for the other passengers. Meanwhile, the girls shopping went a bit crazy, maxing out their credit cards even more.
At two o' clock the girls gathered in the lobby and headed to the Virginia Arts building to practice our routines for approximately three hours making a few adjustments before taking a dinner break. It was hot. So hot.
Following a nibble we danced again from six till ten, brushing up on the opening and finale performances with the entire cast of the Virginia 2014 Tattoo. There are still a few things that need to be fixed but hopefully tomorrow we will pull it off for our first show. How exciting!
On the agenda for tomorrow we have a very busy schedule- two performances and a school visit. No time to spare!
Written by Brittany Kirk and Beth Kennedy (same initials)

Virginia tattoo day 2
Sleep came easy after having a full nights sleep in a bed of luxury (instead of trying to sleep upright in a plane or on the airport floor.) We had a wake up call at 7:00am, although two team members (Tess and Nicole) didn't receive the call, therefore they slept in (this was because their room number was left off the list). The rest of the team made their way to the school gym where we had our very first rehearsal, meanwhile the other two got ready in 2 minutes flat and arrived shortly after. Firstly we met the American dancers who were very welcoming, bright and bubbly. We finally managed to piece together and learn two full dances "Norfolk Ladies" and "The Gael" after eight hours of practice with a few adjustments to the dancing language.

We experienced our first supermarket shop where some girls decided to go a little crazy with the bargains (e.g a 24 pack of bottled water for $3) and later that evening we walked down to a three story mall accompanied by our adopted parents (Duffy and Nina) for both shopping and dinner,which was AMAZING!! While Mrs Hall and Mrs Piesse stayed to enjoy a few drinks.
Anyway, it is now 11.05pm so I think it's time for bed. What a busy day!

Written by Nicole Brocklehurst and Rochelle Enmett.


Virginia tattoo day 1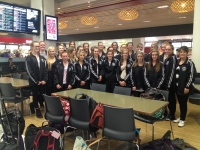 Many of us traveled far and wide to meet the team at Auckland Airport, aside the 2 dancers that missed their flight from Nelson due to the horrible weather conditions. After 12 long bumpy hours we finally reached our destination, Los Angles. Everyone boundered out of security in excitement to see what LA had to offer. After two hours of waiting the two girls from Nelson walked through the security doors to our relief. Turns out we were stuck inside the confinement of LAX 'prison' for 10 long hours, yay. Thank god for wifi. The trip continued to Chicago where Mrs Piesse took a wrong turn had a wee whoopsy with security and was subsequently trapped without a passport to verify her identity, thankfully Mrs Hall came to her rescue, in the end….. As the team cautiously approached the very small plane, emphasis on small, we were all relieved that we would be at our final destination in a couple of hours. As the time flew by, no pun intended, everyone became increasingly excited. Nina and Michael Duffy, two professional clowns, introduced themselves as our adopted parents and drove us to the next destination. Once the team arrived to Virginia, we all meet Eleanor, the head honcho, and preceded to get our costumes fitted. Tired and bedraggled we hurried back to the hotel to get some much-needed sleep.

Mariel
Virginia Tattoo Day 3
By day three we are getting used to cruising down the highway with an absence of indicators and drivers on the opposite side of cars.

We start back at the school of the bull dogs and begin to sharpen the dances we have learned, and by the end of our practices we began to feel more confident.

With a lunch of subway (yummers). We had time to kill with a long break and we decided to take a tiki tour down to the Norfolk naval base.

We entered the base where beached ships are as large as several houses and people on board look like ants. Around the base there are apartments for sailors, shops and even large strangely shaped helicopters.

Later we arrived at the "scope" the place we are performing to free wifi and a great dinner. All the pipe bands from around the world practised including Oman, Australia and military bands. After watching them play and their different take of drumming in an enclosed space, the sudden loudness sent the girls into squeals. We enjoyed the excitement of rehearsing to the pipe bands with our props and saw what it would look like as a show. Finishing at 10pm we tiredly dragged ourselves back to the hotel with our chorus of high school music in the bus.

Written by Tess (Auckland) and Jessie (Hawkes Bay)