Dancers perform at CD Launch in Christchuch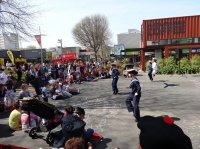 On Friday 4th October Julie Wylie launched her new CD "Magical Musical Play".
With glorious weather, the Re Start Mall was a stunning location for Julie to advertise and present her CD along with the help of 22 students from the Jacqueline Jones School of Dance.
Pre Schoolers presented items from "Starting on the Right Foot" along with performing to two new tracks from the new CD - Pirates Sail the Deep Blue Sea and Roll up to the Circus . This was followed by a Highland Dancing display.
All was well received with large crowds enjoying the performances, and some children from the audience happily joined in to participate.
For any enquiries regarding purchasing Julie's new CD, Contact Jackie at nicandjackie@xtra.co.nz

Conference 2013 Report
This year over the weekend 20th – 22nd September our New Zealand Academy members travelled to Tauranga for our 63rd Annual Conference.

The Solo Seal Examination was held in the Performing Arts Centre at Bethlehem College and the audience was treated to dancing from nine Solo Seal candidates – it has been many years since such a large number has entered this examination. This is our only examination where the public can attend and is our supreme award on our examination system. The candidates Niamh Blackman, Jessica Findlay, Emma Denney, Leighton Terry, Rachel Bates, Sarah Robson, Sarah Gluyas, Kendall Reid and Nicole Harding. Each candidate was accompanied with excellent piping from our own Academy member Mr Neil Baxter from Christchurch. This was a large undertaking by Neil and I am sure all candidates appreciated his very thorough and professional approach. Mr Doug Hendry was compere for the evening and the entertainment was provided by The Highland Dance Company of New Zealand who performed two excellent items – thank you to all Company members and Dance Directors for being so willing to perform for us.

The Youth members met bright and early on Saturday morning at a session facilitated by the new Youth Representative Miss Emma Cropper. There were 50 of our Youth Members in attendance which is an excellent number of our young members who are so enthusiastic about Highland Dancing and our Academy. The youth use the time allocated to them to discuss matters they feel are relevant and then a summary of these discussions are presented to all members during the Annual General Meeting.

Tauranga's Mayor Mr Stuart Crosby officially opened our conference at the beginning of the Annual General Meeting. Our meeting then covered all formal aspects relating to the Academy with reports tabled for various activities. Our new Kiltie Club editors Conor Hendry and Nicole Harding gave an excellent presentation - they have worked extremely hard researching ideas to try to grow the membership numbers in this area – Executive is very grateful for their passion and enthusiasm in dealing with our young members.

Following the Annual General Meeting a discussion forum was held - this year the topics that were covered were:
• 18 years and over cutting movement
• Degrees of passes for examination grades
• Retention of candidates in our examination system
• Colour of underwear being worn under kilts
• Late payment fee for late examination entries
• Children's Book update
• NZQA and the process review

The Dance Development Course commenced after lunch on Saturday with our first guest speaker Diana Bomford – we are extremely grateful to Diana for agreeing to speak to our members at very short notice due to the unfortunate unavailability of our scheduled guest and members were appreciative of her time and the sharing of her knowledge. The Technical Committee had organised a quiz which all members who participated enjoyed There was fierce competition between teams and a great way to get to know members. This was followed by a Nostalgic session showing old photos in a power-point presentation – how fashion's change …….….I wonder what we will say in 20 years time as we look back on this weekends photos!!

Our Saturday evening function was held at Mills Reef Winery – what an amazing venue with splendid hospitality. The evening commenced with the members of the Highland Dance Company of New Zealand being presented – a chance for some of the Academy members to put faces to names and so we can all acknowledge the huge contribution they are making to the Academy. The Diploma and Bar Awards were then presented. This year we had two members receiving their 60 year memberships – it is amazing for us to have people who have been a member of our organisation for 60 years. Mrs Margaret Daines was not in attendance but a dancing friend, and one of our Life Members, Mrs Enid Weir spoke and gave everyone an in-site into Margaret's dancing life and also spoke of the significance of friendships made through Highland Dancing. Our Academy President Mrs Annetta Cowie gave a presentation for Mrs Verna Dougherty for her 60 year membership – it is always interesting to hear of these members experiences and the contributions they make. A presentation was made to Mrs Janet Allison who has recently resigned from our Technical Committee – it was an opportunity for us to acknowledge Janet's contribution to Technical and we thank her for her many years of service. The final presentation of the evening was to Mrs Kay Grout. Kay has been made an Honorary Life Member of our Academy – a very deserving recipient of this award. Thank you Kay for your continued interest in our organisation.

The Dance Development Course continued on Sunday morning with a warm up session – learning the Lochaber Broad Sword – there were a large number of our members up dancing at 8.45am! There were many interesting and informative workshops held – these were prepared by our Technical Committee members. The content was varied and something for everyone. Congratulations to Mrs Sherilyn Hall and her team - many hours of work goes into the preparation and the attention to detail was evident.

Our second guest speaker was Sir Gordon Tietjens who spoke on a large variety of topics including the importance of team culture, discipline, nutrition and training. WOW – how lucky we were to have Verna Dougherty's nephew agree to come and talk to us. Sir Gordon was so generous with his time – a very humble man who shared his knowledge and views on a wide range of topics. I am sure if you look carefully at the television coverage at next years Wellington Sevens you will see Academy members in the crowd.

Thank you to the Bay of Plenty Teachers and Judges Committee for hosting such a superb weekend. The hospitality was amazing (the baking tremendous!) and Bethlehem College was a great venue making it so easy to renew old friendships and forge new ones.

We look forward to our 2014 Annual Conference in the deep south in Invercargill.

Summer School Schedules available
The Summer Fling Schedule and the Hawkes Bay Summer School schedule is now available under Downloads
Youth at conference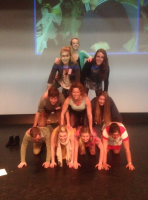 Youth Representative Emma Cropper set the Youth a photo challenge over the weekend.

Each photo was worth points and the team with the most points won over all.

The winning group was team five:
Sara Simmons
Kate Wills
Jessica Findlay
Emma Denney
Lexi Fleming
Stafford Horman
Sarah McQueen
Leighton Terry
Brittany Kirk

All Black Dominic Baird and Crusader Luke Whitelock judged the overall best photo which went to the pyramid by team one and second place was the human sword by team five.

See gallery for the photos

Also click on the links below to see their videos
Youth Flash Mob
http://www.youtube.com/watch?v=QE29niRXMN8

Tauranga Conference Video to MTKO Classic
http://www.youtube.com/watch?v=JQVUNiEWO4I

Dance Development Course - Judges Workshop change
The Technical committee advise that the Judges Workshop is now open to all judges and will include Report writing. Initially it was indicated that the workshop was targeted at Junior judges only.
Announcing Guest Speakers for this years Dance Development Course
The Executive is proud to present our two guest speakers at this years Dance Development Course at Tauranga.

Carolynn Margan from Persona- Performance
I currently reside in Tauranga in the sunny Bay of Plenty where I own and operate a full time coaching business as well as a Sports Massage Clinic. I have been involved with sports in all shapes and forms from individuals wishing to participate to the elite of their chosen sport.
I have just returned from France where I was helping in a coaching capacity with the NZ Long course Triathlon team, I have travelled in the last 20 years with other representative teams such as NZ Surf Life Saving / NZ Cycling as well as working here in New Zealand with the All Blacks, NZ Sevens, NZ League, cricket players such as Jacob Oram, cyclists Sarah Ulmer, triathlete Kieron Doe and many more.
I specialise in recovery techniques and injury prevention and lecture to many sporting groups of all ages in this area. I work closely with the International Rugby Academy NZ in this area working with players and coaches from NZ as well as from overseas.
I am a qualified Pilates instructor and teach both mat work and reformer as well as developing and implementing stretching programs that I have designed.
My coaching clients are generally endurance athletes from Ironman to marathons and even a few ultra runners and cyclists. My coaching includes all aspects of the training as well as nutrition, mental skills, goal setting, daily planning, injury prevention.
I look forward to working with you in September
SIR GORDON TIETJENS
Motivational speaker Gordon Tietjens is considered to be one of the finest coaches of any sport in the world. He has led New Zealand's dominating run in the world of rugby sevens throughout the 1990s and 2000's. In the 14 years since the IRB Rugby World Series has been run, he has won 11 World Titles and 4 Commonwealth Games Gold Medals; 1998 Kuala Lumpar, 2002 Manchester, 2006 Melbourne and 2010 Delhi. He was named the New Zealand Rugby Union Coach of the year in 2010 recognised for guiding his team to a fourth consecutive Commonwealth Games gold medal.
In 1999 his efforts were recognised by being awarded the NZ Order of Merit in the New Zealand's Honours List and again in 2007 he was awarded the Insignia of a Companion of the New Zealand Order of Merit. In 2012 Gordon became the 49th inductee into the International Rugby Board's Hall of Fame. The commemorative cap and gold pin were presented at an awards ceremony at Twickenham, shortly after New Zealand clinched their 11th World Series title from 14 attempts. Gordon was further promoted in 2013 to a Knight Companion of The New Zealand Order of Merit for his services to rugby after 19 years of coaching the All Black Sevens.
Gordon is known for his no nonsense leadership style and uncanny ability to spot raw new talent. Whether its' the motivation he injects into his teams, his refusal to accept anything but the best from his players, or his absolute belief in his ability to pick and coach people to be the best they can be. Gordon is a remarkable man with a remarkable track record in sport and working with winning teams.
Many of these principles have been mirrored throughout his 30 year career with Bay Engineers Supplies where he has just made the transition from General Manager to the Strategic Sales Director.
Gordon represented New Zealand in rugby sevens in 1983 and played 86 games for Bay of Plenty between 1981 and 1989.
In May 2006 Gordon released his book "Titch Sevens is My Game".
Gordon is a compelling and fascinating conference speaker and will motivate and inspire your team to achieve the most that they can.
MERCHANDISE AVAILABLE AT CONFERENCE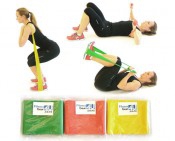 For members attending conference there is a 10% discount off all books, cds/ merchandise etc.
An order form will be included in your conference folder, or you can pre order using the order form from the Dowloads section and pick up at conference.

NEW PRODUCTS
Red Resistance/stretch bands
- medium resistance $12 each. These are great for stretching feet, calf muscles, hamstrings etc.
Marker Spots
We have a limited number of sets of marker spots still available. Cost $25.00
Journey of the Celts - concert details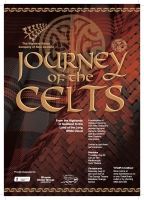 The concerts are being held in Blenheim on 29 August at the Marlborough Civic Theatre at 7 pm. and in Christchurch on 31 August at The Grange Theatre, Middleton Grange School at 2 p.m. and 7 pm

Tickets are available from www. ticketdirect.co.nz or 0800 224 224