Lorient Festival Day 1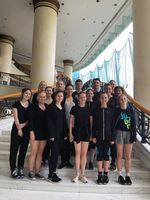 We finally arrived in Lorient after what has been a mammoth journey to get here! Initially our plans included an overnight stay in Paris & day tour to see the sights before we traveled on to Lorient - Typhoon Nida had other plans! We got delayed for 24 hours in Hong Kong where we were put up in a hotel but not allowed out of it due to the Typhoon - so we decided it was an opportune time to rehearse!

We had to return to Hong Kong airport as soon as roads were open again so spent most of our 24 hours stay wandering duty free - shopping was very 'high end' so browsing was our limit.

We eventually arrived in Paris & we're not keen to spend the 5 hours we had to wait for our bus to Lorient in the airport, so we did a quick jaunt into Notre Dame, walked the Seine to the Louvre & had our first non-airport meal in days - it was delicious!

That was followed with an 8 hour bus trip to Lorient where we arrived to our boarding school accommodation rather travel wearied & sick of the clothes we'd been in for 72 hours (we couldn't collect out checked luggage in Hong Kong).

Nevertheless, the team has had loads of laughs & remains fairly chipper! Luckily most of the team will be back in Paris after we finish performing in Lorient so missing our day there isn't too big of a deal.

We are all excited to get out & explore Lorient today, meet the other performers, & attack some more rehearsals before our first performance on Sunday. Oh, & sleep horizontally!!

Signing off from Lorient
The Dance Company

Lorient Festival Day 2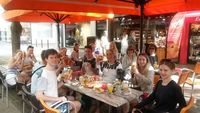 Finally after a good sleep horizontally the Dance Company took the morning to explore Lorient. We managed to order ourselves breakfast, delicious French croissants and baguettes and look around the city.
We are perfectly located with the stadium right next door and the festival tents only a short walk away.
After a bit of exploring and our first taste of French cuisine we rehearsed for a few hours.
Everyone is starting to use a little French although Sara got slightly confused between French and Italian and wondered why she was being laughed at. We have been allocated two interpreters which should help (especially Sara) in the future.
Everyone is still tired after a long trip and rehearsals, however we are looking forward to the festival starting.

Sarah Robson & Megan Ferguson
Dance Company Lorient Festival
The Dance Company leave on Monday for Paris and then onto Lorient to perform at the Lorient Festival along with the City of Auckland Pipe Band.
The Executive wishes everyone an enjoyable time and safe travels.

Check on the website for their daily blog and photos
Conference Registrations
Reminder that conference registrations close on 31 July for the cheaper conference levy.
Remember you can complete the registration form on line at
http://goo.gl/forms/GAv04OdHkp or download and complete the form from the resources list on the website

Diploma applications
Reminder that applications to receive your diploma at Dunedin conference close on 1 August. Forms are available from our website www.nzahnd.org.nz resources, downloads

Lorna's Ceilidh
Saturday August 13th 7.30 p.m.
Bayview Primary School
Glenfield
Auckland

Queens Birthday Honours - Julie Hawke
Congratulations to Julie Hawke on her inclusion in the Queen's 90th Birthday Honours receiving the Member of the New Zealand Order of Merit in recognition of her services to Highland dancing.

Omission and Apology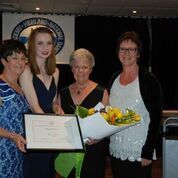 Executive would like to apologise to Serena Sangster whose name was inadvertently omitted from the list of presentations in the December Newsletter. At the Wellington Conference, Serena was presented with her Solo Seal Certificate which is a significant achievement and deserved special mention. Please accept our sincere apologies Serena. We have been able to obtain a photograph of Serena receiving this award and pleased to be able to share this with you.