Adrienne Haberfield Scholarship for new teachers
Reminder for those young budding teachers that applications for the new teacher scholarships close on 30 June.
For the purpose of this scholarship a new teacher is defined as:
a teacher yet to commence teaching in their own right, or within their first year of teaching in their own right as at the date of application
See Downloads for the details and application form
Thank you Tattoo Dancers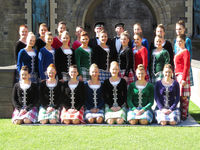 The Edinburgh Tattoo has finished all too soon but has left us all with wonderful memories of a spectacle of such colour and diversity. So much effort goes into the preparation behind scenes to ensure the public witness a performance befitting military precision.

Our 25 dancers formed part of the highland dance group which was made up of 20 dancers from Scotland, and 25 from Scot Dance in New Zealand. Our dancers had the privilege of being led by Aileen Robertson from Scotland and Cheryl Roche from Sydney who outlined the importance of developing a team culture and working together. There was a lot to get right in such a short time, and Aileen and Cheryl, whilst exacting, provided the necessary encouragement to ensure the items were of the highest standard.

We had to call in new dancers to fill the place of two dancers who had to withdraw from injury, so they had little time to prepare and learn the steps required. However, all dancers made it and grew in confidence as the practices progressed to the actual performances.

Each night the performances got better as the dancer's confidence rose to the occasion of performing for so many people. The weather on the final night was amazing with not a breath of wind – a contrast to the wind on the first night.

The dancers led the cast party with lots of modern and traditional dance moves to recognised hit tunes. It concluded as it started with military precision and was a memorable scene.

Thank you dancers, the Academy, your family and friends are very proud of you.


Royal Edinburgh Military Tattoo
It is a privilege that the Academy will be part of this prestigious event, where our Academy dancers will join dancers from both Scotland and Scot Dance to form the team of 70 highland dancers. We wish our Academy team of 25 dancers every success as they commence their rehearsals this evening in preparation for the Opening Performance on Thursday. If you are fortunate enough to be able to attend the Westpac stadium during the performances – enjoy – it will be a wonderful spectacle. We hope to be able to publish photos as and when they are available. A list of the team will be published on the Youth Page.

Auckland Summer School
Auckland Summer School was held recently with tutors Mrs Jackie Jones and Mrs Johanna Lees.
Whilst participants were down on previous years everyone had a good few days of dance

There were three dance classes - Junior, Intermediate and Senior

See gallery for the photos of each age group


Summer Fling Scholarship winners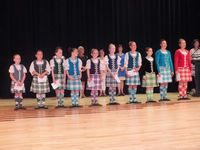 Here are the scholarship winners from 2016 Summer Fling
Initial - Molly Sargent, Timaru
Preparatory - Jessica Mather, Christchurch
Grade 1 - Alexandra Irwin, Christchurch
Grade 2 - Danielle Joy, Christchurch
Grade 3 - Niamh Cunningham, Christchurch
Grade 4 - Niamh Calder, Christchurch
Grade 5 - Abby Murphy, Warkworth
Elementary - Taylor-Maree Allen, Christchurch
Intermediate - Elyssa McDonnell, Christchurch
Advanced - Melissa Brechin, Christchurch

See the gallery for more photos from Summer Fling


Winner of Teddy for best quote at Summer Fling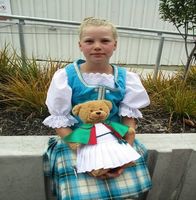 Georgia won the Teddy donated by Highland Etc for the best quote (judged by our pianist Wayne Twohill) from a Teacher which was
"pretend there is a fizzy drink under your feet'
2nd went to the Tuatapere Highland Dancers and the quote was from Mrs Helen McKay
"near enough is not good enough and when it's good enough it will be near enough"
3rd went to Abby Smith
"Keep smiling and they will forget to look at your feet"

Hawkes Bay Exam School 16/17 April
The enrolment form for the Hawkes Bay Exam School 16/17 April with Mrs Sherilyn Hall as tutor is now available from the downloads page