Royal Edinburgh Military Tattoo
It is a privilege that the Academy will be part of this prestigious event, where our Academy dancers will join dancers from both Scotland and Scot Dance to form the team of 70 highland dancers. We wish our Academy team of 25 dancers every success as they commence their rehearsals this evening in preparation for the Opening Performance on Thursday. If you are fortunate enough to be able to attend the Westpac stadium during the performances – enjoy – it will be a wonderful spectacle. We hope to be able to publish photos as and when they are available. A list of the team will be published on the Youth Page.

Auckland Summer School
Auckland Summer School was held recently with tutors Mrs Jackie Jones and Mrs Johanna Lees.
Whilst participants were down on previous years everyone had a good few days of dance

There were three dance classes - Junior, Intermediate and Senior

See gallery for the photos of each age group


Summer Fling Scholarship winners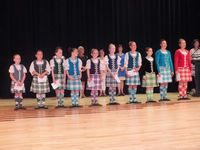 Here are the scholarship winners from 2016 Summer Fling
Initial - Molly Sargent, Timaru
Preparatory - Jessica Mather, Christchurch
Grade 1 - Alexandra Irwin, Christchurch
Grade 2 - Danielle Joy, Christchurch
Grade 3 - Niamh Cunningham, Christchurch
Grade 4 - Niamh Calder, Christchurch
Grade 5 - Abby Murphy, Warkworth
Elementary - Taylor-Maree Allen, Christchurch
Intermediate - Elyssa McDonnell, Christchurch
Advanced - Melissa Brechin, Christchurch

See the gallery for more photos from Summer Fling


Winner of Teddy for best quote at Summer Fling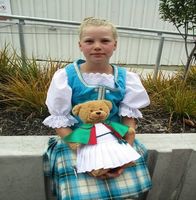 Georgia won the Teddy donated by Highland Etc for the best quote (judged by our pianist Wayne Twohill) from a Teacher which was
"pretend there is a fizzy drink under your feet'
2nd went to the Tuatapere Highland Dancers and the quote was from Mrs Helen McKay
"near enough is not good enough and when it's good enough it will be near enough"
3rd went to Abby Smith
"Keep smiling and they will forget to look at your feet"

Hawkes Bay Exam School 16/17 April
The enrolment form for the Hawkes Bay Exam School 16/17 April with Mrs Sherilyn Hall as tutor is now available from the downloads page

Exam Dates for 2016
May exams will commence on 11 May and finish on the 21 May
September exams will commence on 10 September and finish on the 21 September

Exam entry forms
May exam entry forms are now available - click here to download.

Reminder to teachers, please ensure payment and entry form is received together and prior to the close off date of 1 March.

Please ensure that your entries are paid in full and we advise that we cannot accept individual payments from parents directly into the bank account.