Lorient Festival day 5
This morning we had an early start. We took a bus to the parade at 7 to get there at 7:30 after a slight detour. We had a couple of hours to pass before the parade begun so we entertained ourselves by playing group games with the band. After a long, hot and crowd-pleasing parade, we had a well needed rest until practice in the evening. After dinner we had a quick change to get ready for our first show of night magic. The performance was a blast and all the dancers did really well. We had an hours wait until we went on for the finale so we spent that time getting to know our interpreters better. The finale was a long time to just stand there, but well worth the wait as we had an amazing show of fireworks at the end. The group then joined parade down the street, ending with a four step fling to entertain the crowd. At 1:30 in the morning we made it back to our rooms for a well earned rest after a successful and amazing day.
Leah and Tessa
Lorient Festival day 6
RIGHT – enough of these video blogs, we need something a bit more traditional and stick with words on a page. And frankly, making a video takes up too much data. Sorry to the fans, but we're not spending money on that. Here goes...

Monday morning = SLEEP IN.

Well, only a little. Lucky for some, Angus, Sarah G and Sara accompanied Robyn and Julie to a reception at the Hôtel de Ville, where they were treated to performances by many of the contingents present at the festival. When the heat became too much for someone standing near the Company contingent, a worried whisper rang through the silence. "Sara, GO!" urged Robyn, as she herself realised that medical concerns were out of her league.

Rehearsal in the afternoon meant... well, rehearsing. Specifically, our 40-minute Journey of the Celts programme, which we are excited to perform on Wednesday. Us boys are especially excited about the 4-and-a-bit step Sailors – can someone tell Academy to scrap the extra 2 steps for the seniors? Much appreciated.

But when the sun sets, the Bish and the Gluyas both come out to play. We had decided to play Mafia, but we thought that nobody had bothered to bring any playing cards. Team Captain Sara took some creative initiative and decided to fashion some out of a bread stick bag. What followed was 5 FULL MINUTES of inspection and mental architecture before we realised that Angus had some cards anyway. Thank goodness – I wouldn't have liked to see the finished product.

During an initially uneventful game of Mafia, Sarah Gluyas then decided to defend herself by trying to convince everyone that her whereabouts in the shower could be verified... nevertheless her elaborate lie did not convince the team and she was voted out of the game as suspected mafia.

10pm rolled around, and before we realised, we were on stage as part of the Grande Nuit de l'Australie at the Espace Marine – a large marquee with a temporary theatre set up inside – but you would hardly notice this during the show. The lighting was INCREDIBLE. So much so that it even highlighted the boys' cheekbones (or did we have blusher on?). A lopsided lip-sync of "Everybody dance now!" still won the affections of the crowd, who seems to warm to us everywhere we perform. This was helped by Kate and Matt being top supporters and leading the crowd in clapping along.

A late night walking school bus back to our accommodation ensured that everyone was ready for bed before continuing our residency in Lorient for the rest of the week.

Angus and Lewis


Lorient Festival day 4
We started off our day with crepes at 11 fresh from the locals in Lorient. Lunch was soon after, we then danced for another 2 hour rehearsal to perfect our items which we would later perform in our first evening show. Our first performance awaited, the crowd went wild for red hot highland even though we were cramped dancing on the floor in a pub. We got told by an official who has been working for the festival for 20 years that it was best performance he'd ever seen. So a great start for our performances. We then had a birthday dinner for Brooke who had to wear the blue beret. Rina and Brooke

Lorient Festival day 3
We started rehearsals at 730, we tried our best but it was so early!
With no breaky till 930, Our tummies were rumbling, and boy were we thirsty.

Hallelujah! Its now break time
We hit the markets, shops and some shine.
After this it was salad and ham, accompanied by some water. Bam!

Sara graced us with palettes of colour
That made us look better than the fellas.
It was déjà vous, it happened again,
For the dance co of NZ it was rehearsal number deuxieme.

It was time for our practice debut, we battled through every correction and discovered our ques.
The dance company were tired but never to fear, we danced in true company flair.

The lights were bright, the floor was white, blinding our sight all night as we took flight.

Robyn got the blue beret, because of her hysterical display,
what she thought to be a buzzy bee, ended up being a catastrophe.

Rehearsal trois went late tonight so we'll go quickly,
signing off Sarah G and Britney!

Lorient Festival Day 1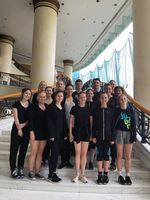 We finally arrived in Lorient after what has been a mammoth journey to get here! Initially our plans included an overnight stay in Paris & day tour to see the sights before we traveled on to Lorient - Typhoon Nida had other plans! We got delayed for 24 hours in Hong Kong where we were put up in a hotel but not allowed out of it due to the Typhoon - so we decided it was an opportune time to rehearse!

We had to return to Hong Kong airport as soon as roads were open again so spent most of our 24 hours stay wandering duty free - shopping was very 'high end' so browsing was our limit.

We eventually arrived in Paris & we're not keen to spend the 5 hours we had to wait for our bus to Lorient in the airport, so we did a quick jaunt into Notre Dame, walked the Seine to the Louvre & had our first non-airport meal in days - it was delicious!

That was followed with an 8 hour bus trip to Lorient where we arrived to our boarding school accommodation rather travel wearied & sick of the clothes we'd been in for 72 hours (we couldn't collect out checked luggage in Hong Kong).

Nevertheless, the team has had loads of laughs & remains fairly chipper! Luckily most of the team will be back in Paris after we finish performing in Lorient so missing our day there isn't too big of a deal.

We are all excited to get out & explore Lorient today, meet the other performers, & attack some more rehearsals before our first performance on Sunday. Oh, & sleep horizontally!!

Signing off from Lorient
The Dance Company

Lorient Festival Day 2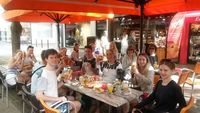 Finally after a good sleep horizontally the Dance Company took the morning to explore Lorient. We managed to order ourselves breakfast, delicious French croissants and baguettes and look around the city.
We are perfectly located with the stadium right next door and the festival tents only a short walk away.
After a bit of exploring and our first taste of French cuisine we rehearsed for a few hours.
Everyone is starting to use a little French although Sara got slightly confused between French and Italian and wondered why she was being laughed at. We have been allocated two interpreters which should help (especially Sara) in the future.
Everyone is still tired after a long trip and rehearsals, however we are looking forward to the festival starting.

Sarah Robson & Megan Ferguson
Dance Company Lorient Festival
The Dance Company leave on Monday for Paris and then onto Lorient to perform at the Lorient Festival along with the City of Auckland Pipe Band.
The Executive wishes everyone an enjoyable time and safe travels.

Check on the website for their daily blog and photos
Conference Registrations
Reminder that conference registrations close on 31 July for the cheaper conference levy.
Remember you can complete the registration form on line at
http://goo.gl/forms/GAv04OdHkp or download and complete the form from the resources list on the website