Conference information for Solo Seal bus and Saturday night function
For those staying at the Southern Cross who are bringing vehicles there is a charge of $13.00 per night.

Solo Seal - the bus to Solo Seal will leave the Southern Cross at 6.30pm - please be ready by 6.15pm. There will be a cash bar operating at Solo Seal (one complimentary drink will be provided).

Saturday evening function - you will need to be at the Southern Cross Hotel foyer, High Street, Dunedin by 5.15pm on Saturday evening as the bus will be leaving from there.. For those where it is more convenient there will be another pick up at the Edgar Sports Centre, Portsmouth Drive, Dunedin at 5.40pm. For those who wish to be picked up at the Edgar Sports Centre please ensure you advise Jackie McBride by text on 027 3184766 by Friday 23rd September. You need to be on time for the pickup, we do not want to be in the situation of anyone being left behind. There will be a cash bar operating (and eftpos) for drinks, with some wine provided on the table for the evening meal.

Bus to airport - there will be a bus available to transport members to the airport on Sunday afternoon. The cost for this is $5.00 per person - to give us an indication of numbers required can you please advise the Secretary by Wednesday 21 September if you would like to utilise this. A sheet will be available at conference to book your seat.





Conference Registrations
Reminder that for the cheaper conference registrations, these close on Tuesday 06 September. Registrations received after this date will incur an additional $250 late registration fee.

Dance development course options are also due to the secretary on Tuesday 06 September

Lorient Final blog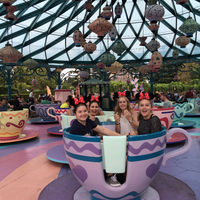 Well , we come to our last day in Paris and the end of what has been a truly amazing trip ...one that is full of unique experiences that we hope will give our dancers many fond memories to look back on.

To fit everything in that the team left in Paris wanted to squeeze into the last day, we divided into two groups and so this blog will be in several parts.

The young and the young at heart amongst us decided they would like a quick jaunt out to EuroDisney for the day so thanks to Susan and Johnny Moore who lead the group out there.The Disney adventurers will add some photos and report on their exciting last day.

The more sedate members of the crew, Robyn and Colin, Julie and Richard, Sam, Aine and Megan decided to stay in the city and soak up a few more hours of Parisienne joie de vivre...a few last minute purchases from the beautiful Paris shops followed by lunch in the Latin quarter at one of the city's oldest cafes.

Aine and Megan left earlier in the afternoon to head off on their next travel adventures - bon voyage girls , happy and safe traveling.

Julie and I decided to end our time in Paris with a celebration glass of champagne at the Ritz ...wow ! What grandeur in the inimitable French style, we even had to photograph the toilettes 😉
A very big thanks to our dancers who have represented the Dance Company, our Academy and New Zealand in such superb style, both in performance and in behaviour, throughout our time away. We received so much magnificent feedback about you in Lorient and you were disciplined, respectful and fun to work and travel with. We feel very proud to have lead such a successful mission 👏👏👏
Robyn

..... And then after farewelling Robyn and Colin as they headed to the Eurostar bound for London, the 3 Mouseketeers ( who are now wearing matching Mickey Mouse ears) Lexi, Beth, Mae, Sam, Susan & Johnny Moore and Richard and myself headed to Charles de Gaulle airport by bus.
Liz, Greg, Gracie and Rowan McKay Simpson joined our flight after their own 4 day jaunt around Paris so it was great to compare all the wonderful sights we had all taken in. Their holiday continues with a few days stop over in HongKong!
Richard is beating us home flying Emirates so now our travelling group has shrunk one final time to 10.....We are now in Hong Kong, on a 6 hour stopover before heading to Auckland and without trying to jinx anything we are confident that there won't be any typhoons to hold us up this time!

I too would like to say a massive thank you to our Lorient Team for your commitment and passion you put into all our rehearsals and performances, taking the hectic timetable in your strides. It was an honour for our Dance Company to perform in the Interceltique Lorient Festival alongside Liz McKay, the City of Auckland and Queensland Irish Pipe Bands and also to perform and showcase our own Celtic story with performances of Journey of the Celts onto the world stage, which we are all so proud of.
A very sincere thank you to Raewyn, Executive, academy members, and all friends and family back home who supported us all during our tour, we have so appreciated your encouragement and kind words.

Au Revoir,
Julie

Lorient Festival day 7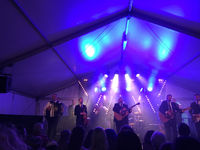 Our festival performing officially over, today the team had a lazy start and then took the opportunity to really enjoy Lorient & the festival without having to worry about looking after our legs for more dancing!

Everyone made the most of the buzzing Celtic vibe, heading off to watch other performers. Off course, there had been minimal shopping time till now so there was some of that done too!

Some of the dancers & supporters visited the La Base submarine base - a Nazi megastructure, the largest they built outside Germany during WWII. We went onto one of the submarines which really made us appreciate the tight living quarters those working on it lived in for 6 weeks or more at a time. It was humbling to learn the history of Lorient during the war - the city was completely flattened as the allies tried to cut off German infrastructure to the submarine base. Quite astounding that the whole city has been rebuilt to replicate it's pre-war look.

In the evening we went to enjoy one of the bands we had traveled with on out bus trip from Paris to Lorient, Murphys Pig. They loved having us up the front of their 'mosh pit' dancing to every tune! We even did a rendition of Settlers Ceilidh!!

Later on our interpreters took us to the Bretagne tent to do some traditional Breton dancing. They were astounded at how quickly we got the gist of it & think we know it better than them now! The dance floor was packed - everyone just gets up & muscles their way into the circle to join in!

We are looking forward to another relaxing day in Lorient tomorrow before heading on to Paris on Sunday.

Au revoir!

Lorient Festival day 6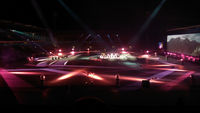 Blog - Tuesday 9th August: Media day
Tuesday was a busy day for the company with two performances and several media commitments. The day started with dance captains Sara and Sam being interviewed by a journalist from the newspaper who was accompanied by a photographer requesting entertaining photos, a tough requirement to fulfill when everyone had only just got up.
After a quick rehearsal in preparation for Wednesday's 40 minute show we boarded a bus and headed for our first performance of the day at a rest home in the village of Hennebont. While the audience demographic was
very different to what we had become accustomed to, they were very appreciative and relished the opportunity to meet the company afterwards. On our way back from the rest home the bus driver took us for a quick tour of the village which was originally a medieval fort.
The company directors and dance captains then headed to the second media commitment of the day, a press conference with a whole host of reporters, making us feel like Steve Hansen giving a post match interview. The press were particularly interested in the korowai Sara was wearing and it's meaning. The press conference included a rather impromptu four step fling after we realised the artists were supposed to give a short demonstration.
While the rest of the company prepared for the final performance of the day Lewis, Rina and Sarah R headed over to the stadium for an interview with France 3 TV. Everyone else then joined the TV stars at the stadium for our second Night Magic show. The show was being filmed for TV so the lighting was even more incredible than the first show and there was the odd cameraman to dodge. As we came off the stage we had our final media commitment for the day, a quick interview with the local TV news. The temperatures got very cold during the evening so we quickly hurried back to our rooms after the finale to warm up and get some much needed rest ahead of another big day of dancing on Wednesday.
Sam
Lorient Festival day 5
This morning we had an early start. We took a bus to the parade at 7 to get there at 7:30 after a slight detour. We had a couple of hours to pass before the parade begun so we entertained ourselves by playing group games with the band. After a long, hot and crowd-pleasing parade, we had a well needed rest until practice in the evening. After dinner we had a quick change to get ready for our first show of night magic. The performance was a blast and all the dancers did really well. We had an hours wait until we went on for the finale so we spent that time getting to know our interpreters better. The finale was a long time to just stand there, but well worth the wait as we had an amazing show of fireworks at the end. The group then joined parade down the street, ending with a four step fling to entertain the crowd. At 1:30 in the morning we made it back to our rooms for a well earned rest after a successful and amazing day.
Leah and Tessa
Lorient Festival day 6
RIGHT – enough of these video blogs, we need something a bit more traditional and stick with words on a page. And frankly, making a video takes up too much data. Sorry to the fans, but we're not spending money on that. Here goes...

Monday morning = SLEEP IN.

Well, only a little. Lucky for some, Angus, Sarah G and Sara accompanied Robyn and Julie to a reception at the Hôtel de Ville, where they were treated to performances by many of the contingents present at the festival. When the heat became too much for someone standing near the Company contingent, a worried whisper rang through the silence. "Sara, GO!" urged Robyn, as she herself realised that medical concerns were out of her league.

Rehearsal in the afternoon meant... well, rehearsing. Specifically, our 40-minute Journey of the Celts programme, which we are excited to perform on Wednesday. Us boys are especially excited about the 4-and-a-bit step Sailors – can someone tell Academy to scrap the extra 2 steps for the seniors? Much appreciated.

But when the sun sets, the Bish and the Gluyas both come out to play. We had decided to play Mafia, but we thought that nobody had bothered to bring any playing cards. Team Captain Sara took some creative initiative and decided to fashion some out of a bread stick bag. What followed was 5 FULL MINUTES of inspection and mental architecture before we realised that Angus had some cards anyway. Thank goodness – I wouldn't have liked to see the finished product.

During an initially uneventful game of Mafia, Sarah Gluyas then decided to defend herself by trying to convince everyone that her whereabouts in the shower could be verified... nevertheless her elaborate lie did not convince the team and she was voted out of the game as suspected mafia.

10pm rolled around, and before we realised, we were on stage as part of the Grande Nuit de l'Australie at the Espace Marine – a large marquee with a temporary theatre set up inside – but you would hardly notice this during the show. The lighting was INCREDIBLE. So much so that it even highlighted the boys' cheekbones (or did we have blusher on?). A lopsided lip-sync of "Everybody dance now!" still won the affections of the crowd, who seems to warm to us everywhere we perform. This was helped by Kate and Matt being top supporters and leading the crowd in clapping along.

A late night walking school bus back to our accommodation ensured that everyone was ready for bed before continuing our residency in Lorient for the rest of the week.

Angus and Lewis