Virginia Tattoo Blog - Day 4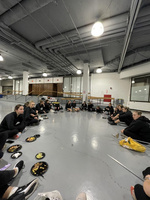 Tuesday 18th April
day 3
day 3 of rehearsals started off with a bit of a sleep in. Julie had her T.V debut on channel 13, which we are all looking forward to watching later, (link coming out soon, so stay tuned for that.)
Meanwhile, the rest of us continued to practice and perfect our items in the hotel from 11-3, which then gave us some spare time to get prepared for practice at scope, and to have a much needed break.
The Virginia International tattoo kindly provided dinner for all performers tonight at scope stadium which i'm sure we all enjoyed.
The rest of the night was mostly spent on rehearsing the finale with the other bands and performers, along with the sound and lighting which is going to look amazing!! As well as working on the opening act which is our white dragon dance.
-Sophie & Bridie