Lorient Festival day 6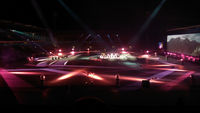 Blog - Tuesday 9th August: Media day
Tuesday was a busy day for the company with two performances and several media commitments. The day started with dance captains Sara and Sam being interviewed by a journalist from the newspaper who was accompanied by a photographer requesting entertaining photos, a tough requirement to fulfill when everyone had only just got up.
After a quick rehearsal in preparation for Wednesday's 40 minute show we boarded a bus and headed for our first performance of the day at a rest home in the village of Hennebont. While the audience demographic was
very different to what we had become accustomed to, they were very appreciative and relished the opportunity to meet the company afterwards. On our way back from the rest home the bus driver took us for a quick tour of the village which was originally a medieval fort.
The company directors and dance captains then headed to the second media commitment of the day, a press conference with a whole host of reporters, making us feel like Steve Hansen giving a post match interview. The press were particularly interested in the korowai Sara was wearing and it's meaning. The press conference included a rather impromptu four step fling after we realised the artists were supposed to give a short demonstration.
While the rest of the company prepared for the final performance of the day Lewis, Rina and Sarah R headed over to the stadium for an interview with France 3 TV. Everyone else then joined the TV stars at the stadium for our second Night Magic show. The show was being filmed for TV so the lighting was even more incredible than the first show and there was the odd cameraman to dodge. As we came off the stage we had our final media commitment for the day, a quick interview with the local TV news. The temperatures got very cold during the evening so we quickly hurried back to our rooms after the finale to warm up and get some much needed rest ahead of another big day of dancing on Wednesday.
Sam