Virginia Tattoo day 13
To everyone's excitement today we had a choice of the days activities. After a few suggestions the outcome was a tour of Hollywood, Beverly Hills and Bel Air. Obviously the most important mission was celebrity home stalking, including the homes, Zac Efron, Leonardo Dicaprio, Beyoncé and Jay Z, Ellen DeGeneres and many more. We split up for lunch on Hollywood Boulevard, which was an experience in itself, many girls were shocked by the confrontational and persistent sidewalk sales people. While a few decided to go back to the hotel for a rest, everyone else headed off to a nearby outlet mall for some retail therapy. As it was too far to walk in the 40 degree heat waving down a yellow taxi was the only option back. For most it was a successful trip but for a few it was rather scary when they thought their taxi may not actually have been a taxi. But upon arrival to the hotel they were relieved it had all worked out. Everyone headed straight to the pool too cool down after the busy day of sightseeing.

Dayna and Brenna

Virginia tattoo day 14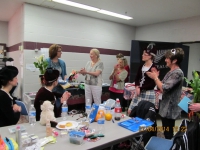 Day 14 - The last day of our trip
Hello all Academy members, parents and friends. Sadly the 2014 Academy Dance team's visit to Virginia, Los Angeles and Disneyland has come to an end. We have been incredibly proud of our team members during this trip and the Academy can be equally as proud of how the girls conducted themselves and performed throughout their time away. We have had some wonderful experiences and will have many stories to tell. Now as we all depart and leave for home we as chaperones say a big thank-you for their co-operation throughout the tour. We too have had a wonderful time and enjoyed supporting the girls. Thank-you to everyone who has made this tour possible. The last day at Disneyland was extremely hot but did not deter anyone from having another fantastic day.
Sherilyn and Cushla.

Virginia tattoo day 12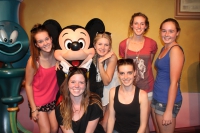 Today we visited the happiest place on earth. Disneyland was everything we had hoped for and more. It was also Tess' 23rd birthday!!! She had an amazing day and enjoyed a birthday that she will definitely remember for a lifetime! The girls split off and visited the park of their choice - Disneyland or California Adventure Park. We met Mickey, Minnie, Goofy and all their friends and took hundreds of photos, as you would expect. The day was crazy 33 degrees, ensuring sunburn for many.

During the wait for the Space Mountain ride, we saw Sherilyn and Cushla coming towards us and cut them into line with a group of us which led to the funniest and most enjoyable ride of the day, as we heard Cushla's non-stop giggle and witnessed Sherilyns watering eyes. During Splash Mountain, Ashleigh was brave and took the front seat (after being forced) and got absolutely drenched after the huge 50ft drop, which was super hilarious. However we were all dry after 10 minutes in the heat!

Further on in the day we were surprised by a familiar accent when we had asked a stranger to take a photo of us in front of the princess castle. It was great to hear our own accent making us miss home and realising that American accents are a little strange.

At 7pm we gathered around the main square to watch the parade. Everyone was super excited to see their favourite Disney characters and princesses, feeling like we will never stop loving Disney. We sadly dragged ourselves out of Disneyland at 9pm, having a quick shop on the way before we left and then it was back to the hotel for a relaxing spa and some food before bed. Bring on tomorrow!!

Kate & Ashleigh
Virginia Tattoo day 10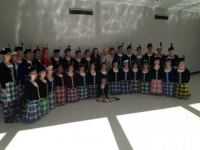 The day began with a luxurious sleep in before another Hullabaloo performance which was well received by the Sunday afternoon audience, which included Hannah's enthusiastic family. The mood was a little sombre as it was our last Tattoo performance, therefore many photos were taken and years were shed, along with a last minute rearrangement of formations with the absence of Kelsey due to injury. We ended the day by dining out at a Australian Outback themed steak house, sharing the past weeks ups and downs with each other. I think we can say that everyone now has many new friends on Facebook, which is obvious evidence of an excellent time at the Virginia Tattoo. A massive thanks to all the support crew that helped make it so successful and a great experience :)
Dawn & Eve

Virginia Tattoo day 11
This morning we had a very early wake up call at 3:30am and we stumbled out of our hotel to say goodbye to Norfolk. After 15 long hours of travelling and encountering two time zone changes we finally arrived in L.A. We collected our bags and farewelled Mariel before meeting Marlee and our bus driver Andy who took us to our hotel in Anaheim. After we were settled into our rooms with our new roommates, the majority of us jumped into the pools and spas where our much deserved relaxation time began. Everyone also then indulged themselves with ice cream and fries to make up on the lack of food we had while travelling. Exhausted and in much need of a decent nights sleep, we dragged ourselves to bed in order to prepare for disneyland tomorrow.


By Hannah and room 111 crew
Virginia tattoo day 9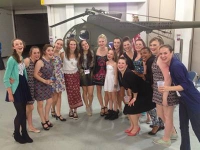 On Saturday we started the day off with a well deserved sleep in, where after that we headed to shop up a storm at Walmart! The price of the make up sent a few girls searching for their wallets, but we hope there is not too much damage to fix when we get home.

We then arrived home and relaxed and lounged around for a bit before heading to the scope for our second to last performance. Lots of rewards were recieved for the best smiles and when after 20 minutes of standing still in the finalle the girls were rather excited to change into some heels for the cast party! The party was a buzz and we happily danced out to the sound of Don't Stop Believing by Jouney, so on that note we better get some sleep to recover from the big night! Oh and hence the song parents, DON'T STOP BELIEVING we have been doing our dancing theory! :-)
Love from all the girls,

Sophie and kendyll xxx
Virginia tattoo day 8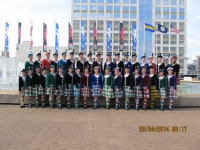 We had a early start at 5am to prepare ourselves for the dawn service for Anzac day, gathering with the Aussies at the MacArthur memorial where Mac Arthur and his wife were buried. It was a lovely service apart from the fact they must have forgotten that we were coming and didn't play our national anthem, so we had to sing it. The service was followed by a yummy breakfast.

For the evening show Elenor came up with a brilliant idea of wearing our poppies on our highland jackets, when one American dancer asked what Anzac stands for, a group of dancers explained to her with one New Zealand dancer saying "I didnt even know that", so news travelled fast amongst the pipe bands and then a piper came to our dressing room and played our national anthem seeing as we were forgotten about at the dawn service.

Later that night, the 18 and overs as well as all the American dancers, had a fun night out at 'the Banque' which was a country line dancing bar, while the under 18's had an early night in.

Written by Lisa Claridge and Jessica Miller.
Virginia tattoo day 6
We started the day with our first dress rehearsal performed in front of students. This was a lot of fun as most of the girls either had never worn much makeup if at all and the others were talented make up artists. As our gorgeous girls got used to their new faces and learnt to do a bun on top of their heads we did our best with a good performance even with flipping a targ (shield) and picking up the wrong lanterns.

After this we madly rushed and organised some dances at an elementry school while the kids screamed in applause for the girls and so the girls spent some time with them and showed them our outfits and taught a step or two. We then went back to the sope arena and did another dress rehesrsal performance in front of special needs kids and they adored us too. Finishing at close to ten the tired girls were happy to see the hotel, and go to sleep.

Written by Tess Pilkington.