Academy Technical Training Course - Auckland 2017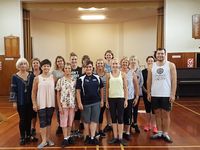 The Highland section of the ATTC was held in Auckland on 25th and 26th March and was attended by 12 members. Sherilyn Hall and Cushla Piesse were the tutors for the 2 days.
The weekend was enjoyed by all with lots of learning, participation, re-capping, great discussions, and fun!
I would definitely recommend Academy members take the opportunity to attend an ATTC course, either Highland or Step Dance when they are available.
As one of the attendees at the 2007 Technical Training Course it was fantastic to have the opportunity to participate again, and come away from the weekend with more knowledge. We were able to learn from each other's experiences in teaching and how to strive for that perfect technique. I don't think we ever stop learning and improving on how we do things.
I think the following two quotes sum it up!
"Anyone who stops learning is old, whether at twenty or eighty. Anyone who keeps learning stays young." (Henry Ford)
"It's what you learn after you know it all that counts" (John Wooden)
The Step Dancing part of the ATTC is in Invercargill 12th and 13th August and I encourage those who can make it, to register your interest with the Academy Secretary Raewyn.
June Wright