Virginia Tattoo Blog - Day 9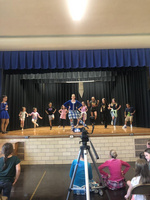 This morning we started the day by walking to our favourite breakfast place Cold Pressed to get our bagels and smoothie bowls. We then walked to the arena for our matinee show for all the very excited school kids.
Half of us then travelled to Mary Calcott Elementary School to perform a broadsword dance, sailors, seann, and Irish reel for the kids. We taught them how to do some simple dance steps and they absolutely loved it!
We then performed our dances at the Hullabaloo festival and performed our last show for the day. Lots of parents were in the crowd and it was nice to see an NZ flag being waved around. We are now recovering from another big day back at our hotel.
Ariana & Mhairi