MERCHANDISE AVAILABLE AT CONFERENCE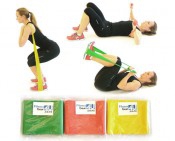 For members attending conference there is a 10% discount off all books, cds/ merchandise etc.
An order form will be included in your conference folder, or you can pre order using the order form from the Dowloads section and pick up at conference.

NEW PRODUCTS
Red Resistance/stretch bands
- medium resistance $12 each. These are great for stretching feet, calf muscles, hamstrings etc.
Marker Spots
We have a limited number of sets of marker spots still available. Cost $25.00