Expressions of interest for additional dancers to join Highland Dance Co of NZ to Netherlands
The Highland Dance Company of NZ is travelling to The Netherlands and Belgium to perform at the Rotterdam Tattoo and the Oostende Tattoo in Belgium
We require additional dancers to go with the Dance company members.
Application form is available from Downloads/ Resources with applications closing 12 April.
if you have any queries please do not hesitate to contact the secretary: admin@nzahnd.org.nz

Refund of Book Purchases
Executive advised in the December Newsletter that the Downloadable Examination Books/CD's would be available on the Member's Page from 31 January and we apologise that this timeline was not met. Therefore Executive would like to refund those who purchased Books/CD's after the 31 January. If any member, or your pupils fit into this situation, please contact the Academy Secretary.


Academy Technical Training Course - Auckland - June 2019
The next Academy Technical Training Course will be held in Auckland weekend 22/23 June and will cover the Step dance syllabus.

The aim of the Course is to give participants greater understanding and knowledge of syllabus requirements by looking at the finer points of exercises, foundation movements, steps and dances as well as musical requirements.

Participants are encouraged to be physically fit, though they do not necessarily have to dance.
Completion of part or all of the ATTC will be a requirement for Levels 2 and 3 of the Academy Progression Scheme.

Cost $250 for the weekend.
Applications for the June course close on 30 March to the Secretary: admin@nzahnd.org.nz with a non refundable deposit of $125 with the balance payable by 30 May 2019.


Auckland Summer School - Exam Workshop
Auckland Exam workshop being held Saturday 30th March and Sunday 31st March
Tutors: Mrs Pamela Fleming and Mrs Lynette Mitchell

See downloads for further information and entry form
Congratulations to Kendall Reid
Congratulations to Kendall Reid who has been invited to be part of the Basel Tattoo 2019.
Kendall will join the following dancers - 13 Australian, 13 Canadians, 13 Scottish, five South African and four from New Zealand.
The Producer of this year's Tattoo is Erik Julliard with the following team:
The International Dance Team – Canadiana Celtic Dancers Co Dance Directors Stephanie Julliard and Stephanie Grant
Dance Director Rachel McLagan from Fling and Things Scotland, and
Lead Dance Director – Cheryl Roach.
The dancers will be participating in four items in addition to the main item.
The Tattoo in Basel is scheduled to run between 12-20 July.
The Academy is delighted Kendall has been invited to be part of this prestigious event and we look forward to lots of photos and updates.
Well done Kendall.

Summer Fling 2019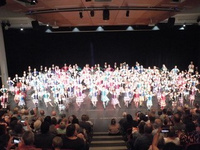 Summer Fling 2019 concluded last night with a tribute to Katie McDonald
A new scholarship was awarded by Cushla and Jeanie called the "Katie McDonald Memorial Scholarship"
This was then followed by a Massed Highland Fling in tribute to Katie who was a Summer Fling committee member at the time of her passing

Conference 2019 Auckland accommodation
The 2019 Conference is being held in Auckland at the Waipuna Hotel & Conference centre.
If you would like to book your accommodation early the NZ Academy code is NZA0919. Please quote this number when doing your bookings
Executive Annoucement
It is with pleasure Executive Council announce that Kimberley Mavor has been elected onto the Technical Committee, effective at the beginning of 2019..
We also have pleasure announcing that Jacqui Seque and Christine Paul will become Technical Reserves.