May Examination Interview Times
Please Click On the Link Below to View the dates and times for your areas examination Interviews.
Please contact your area exam organiser for venue details.
Farewell Mrs Jeanie Paton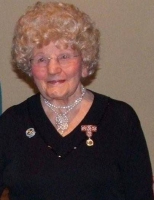 Dear Members
It is with great sadness to report the passing of our much loved and respected Patron, Mrs Jeanie Paton, Mrs Paton had .been unwell for past few months and passed away peacefully early this morning. We have as an organisation been priviledged to have shared Mrs Paton's wisdom and knowledge for such a long time. Our sincere thoughts are with the family.
Exam Workshop
Saturday and Sunday 24/25 April in Hawkes Bay
Exam classes for Preparatory – Advanced – No Intermediate exam class.
One class per day.
For a schedule or further enquires please contact Jill McIntosh 06 8767 313 or Gaye Reid –
barry-gaye@xtra.co.nz
2011 Summer Fling - Christchurch
Venue and dates for Summer Fling Christchurch 2011 have been confirmed.
Wednesday evening (Performers class only) 19th January
Thursday 20th January to Sunday 23rd January all classes.
Held at Rangi Ruru Girls School once again.
Boarding will be available from Wednesday evening 19th January and this year we are pleased to confirm that we can stay Sunday evening checking out by 10.00 Monday 24th January. All meals can be provided. Cost for all meals and accommodation will be $63.00 per day. More information on boarding and breakdown of cost can be provided on request. For more information or to pencil in your booking contact
Elizabeth Smith
Scottish Festival
On Sunday 14th February the Canterbury West Coast Centre of the Piping and Dancing Association participated in a Scottish Cultural Festival afternoon. The venue Riccarton House and Bush was picture perfect and the afternoon remained fine and sunny. It was estimated some 2000 people attended.
The main theme was a Pipe Band Competition, however there was whisky tasting, Scottish Country Dancing and Highland Dancing displays. The afternoon also included a wonderful Vintage Car display and men and women in Edwardian and Victorian costumes.
A grand parade took place around 2pm and the afternoon was completed with a Haggis Ceremony at 4.30pm.
This event is organised by the Canterbury Burns Club in conjunction with all other Scottish organisations in Christchurch. The future of this Scottish Cultural Festival is very bright and it is envisaged that a Highland Games in Christchurch will eventuate. Wonderful prospect for the Garden City.
Scottish Festival Photos
Shelley Reid Marries Stuart Easton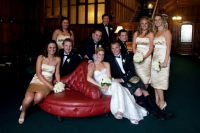 The wedding was on 16th January. 2 other Academy members were bridesmaids, Sister Kendall and cousin Brodie Reid. She had a guard of honour of local dancers.
Auckland Summer School 2010
Tutors:
Mrs Adrienne Haberfield
Mrs Kimberley Mavor
Mrs Susan Edwards
Photos
May Exams
Reminder that May exam entries close on 1st March.
Please ensure your entries are with the Examination Secretary prior to this date.
Also there will only be Group interviews held after the May exams. Please indicate on your entry form whether you wish to attend a Group Interview.