NZ Academy Raffle
Just a reminder to members that Raffle books are due back to the Secretary by the 15th of June.

If you are unable to sell your book please send back to the Secretary so it may be reallocated.

Thanks

Virginia - A back stage video
Check out www.youtube.com - NZ Highland dance USA trip 2012

A back stage video made by the Highland Dance Company of NZ at the Virginia Tattoo
Virginia Tattoo Trip Day 10
For most of the girls the day started unpleasantly with a fire alarm causing a panic and a run to the meeting area outside the motel. For the boys however, they just slept on through. Most had mixed emotions about today, sad that the Tattoo was coming to an end but happy that they didn't have to stand still for 20 minutes in the finale anymore. We started with our choreographed dances, Dancing Feet and Thistle and the Fern. One bystander proclaimed that we were "borderline brilliance" and a lot of Americans were wondering where we were from. After the success of the Hullabaloo show we proceeded to the tunnel for our final performances. This is where disaster struck. Within the first 32 counts of 51st Highlanders, Nicole Harding sprained her ankle in a parallel. She bravely continued the rest of the dance but ending up being our first and only casualty of the trip. Since then Nicole has been carried around either on the shoulder of one of the strapping young men on the team or by wheelchair. After finishing the final tattoo performance to an appreciative audience, The NZ team signed autographs for their adoring fans.
With excess food vouchers in hand the team headed to Outback steakhouse to order up large. The meals were awesome and it was nice to share this time with our hilarious adopted mom and dad, Nina (Sparkles) and Duffy. After gorging on Steak and Lobster tail, the team said farewell to Duffy, Nina, Mrs Unger, the Aussies and the American dancers.
We met up back at the hotel for our final party before packing. Awards were handed out to everyone on the trip for hilarious antics that we got up to. Then Daniel cranked out the pipes and tag team Jigs, Irish Reels, Irish hornpipes and Sailors were danced. Later the team went to the beach to set free their pet hermit crab (named Emma Cropper) to Amazing grace on the pipes. We then bid farewell to Elizabeth, Jamie and Daniel who will be sorely missed by the team. Now we are back in our rooms packing our bags, some of the girls bags look like they are bursting at the seams.
God Bless America,
Jayden Withington

Virginia Tattoo Trip Day 9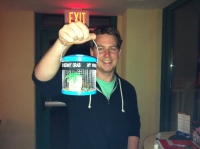 Today we had a free day so we took the opportunity to have a good sleep in. Many of us had a big feed at the familiar Pocahontas Pancakes before doing a spot of shopping along Virginia Beach. Many last souvenirs were bought, including a hermit crab affectionately named Emma Cropper (who made some curious noises during the night in our room!). We went into Norfolk mid-afternoon to do our last shopping outing at the mall near the arena, an event that caused a lot of panic buying by the team.
We performed again tonight and then we all attended the cast party. We were a little disappointed that it was only us (the dancers) who made an effort to dress up but that didn't stop us having a good time. Most of the team was up on the dance floor all night and we danced until the DJ stopped playing his music.
Another late night tonight but tomorrow we can have a small sleep in!
Lewis Gibson

Virgina Tattoo Final Report
As we sit in LA airport on the final leg of our journey home and reflect on this inaugural trip for the Dance Company, we are immensely proud of this team of inspiring young dancers.

They have represented our Academy superbly. We received wonderful feedback on the quality of our performances , both for the Tattoo items and especially for our own choreographed pieces in the Hullabaloo Fest.

Offstage our dancers bonded together as a team supporting each other and formed new friendships with the American, Australian and Canadian dancers. Eleanor Unger was complimentary of the Company and both Eleanor and Scott Jackson, the Tattoo Director , have indicated we will definitely be receiving an invitation to return to Virginia in the future.

PS Slightly stressful check-in this morning at Norfolk Airport..... a count up revealed a total of 55 new pairs of shoes purchased which resulted in quite a bit of re-packing and juggling of luggage to avoid excess baggage charges !!!!

Robyn Simmons & Julie Hawke
Virginia Tattoo Trip Day 8
lot out of us! But we're still going strong!

We started out with the matinee performance at the scope for the main tattoo. Although many of us were stiff and sore, we managed to pull it together for an awesome performance. The crowds over here really get into it and walking out onto the smokey stage with that amount of cheering really gave us the boost to put on a spectacular performance(if we may be so modest!)

Then it was a small amount of sushi for "lunch" (most of us got seconds later) and off to the Nauticus museum. (check it out at http://www.nauticus.org/ ). The absolute highlight of the trip had to be getting a picture on the boat that was docked there and of course shopping in the gift shop.

And then it as right back to the scope. This time however we performed outside on a (very!) small stage for the hullabaloo festival. We performed our own "Dancing Feet" and "the Thistle and the Fern" dances to a great response.

Finally it was back to scope for the evening performance. We were all knackered by the time we got to the finale; "the lone bagpiper playing Amazing Grace brought tears to my eyes. It was absolutely beautiful" - Isabelle.

And so with a late night we must say good night xx

-Niamh Blackman & Isabelle Merwood



Virginia Tattoo Trip Day 6
After an early morning wake up call with dance practice commencing at 7.30am a small group of us travelled to Barnes and Nobel – a large bookstore - where three of the younger members (Lewis, Nicole and Danielle) performed a fling, jig and sword. The only slight hitch was that the stage was so tiny it could only just fit on a sword!!! After a bit of downtime we had our last rehearsal which to be quite honest was a bit of a disaster but the later dress rehearsal (which was filmed) was a lot more successful with only a few issues including forgetting one of the swords and having a few technological issues with the lanterns. All in all it was a great day and we are looking forward to the matinee performance tomorrow.

Danielle Pope & Nicole Harvey
Virginia Tattoo Trip Day 7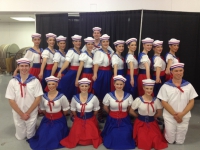 Today we had our first performance with an almost-full arena. It was packed with mostly young children on school trips who were very excited to see the show and got into the tattoo spirit. The performances were very successful, and were described as 'extraordinary' by the head director, to which our resposnse was 'are you sure it was us he was watching?'

We had our first and only trip to wal-mart and the dollar store, which were both very cheap, but we still managed to spend up big. After we made our purchases of the day, lots of us had to buy a small suitcase as a carry on bag to hold all of our shopping from today and other days too.

We got home at 5.30 tonight which was a change to the late nights we have had previously. We are going to have a spa and watch a movie in the small theatre in the hotel, before having an early night which is well needed.

Brittany Carlton and Madison Fleming


PS from Julie and Robyn

Hi to all the parents, family and Academy friends at home.....Just thought we would let you know everyone is fit and well and having a fantastic time. There is a great team atmosphere amongst the dancers....they are supportive and encouraging each other and laughing lots !

The two dances they have learnt since we arrived they perform with the American, Canadian and Australian dancers. The first dance called "51st Highlanders" they perform in kilts with the 51st Scottish Regiment Pipe Band accompanying them. It is a wonderful, colourful spectacle with part of the dance performed in groups of 8 over the swords , four of our girls also dance on targes outside the four males and finishes with a stirring Reel section with the full 32 dancers in front of the pipers.

The second dance "Compass Rose" is a hornpipe and jig , again danced using swords with the dancers holding lanterns and dressed in red, white and blue nautical style costumes. This dance is performed to the massed pipes and drums. (140 pipers ...the acoustics in Scope Arena are first-class so the sound is amazing)

Tomorrow we also perform our own two choreographies "The Thistle and the Fern" and "NZ Dancing Feet" as part of the Hullabaloo Festival which takes place outside on the plaza of Scope Arena between shows. We will have a 10.30am matinee performance , 5.30pm Hullabaloo Festival followed by a 7.30pm evening performance....will be a very big day ! Hence the instruction to all the dancers for an early night tonight !