Congratulations to Kendall Reid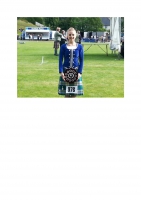 Kendall recently competed at the Oban Highland Games and won the Most points adult & most points international competitor
Journey of the Celts concerts - Christchurch in conjunction with the Body Festival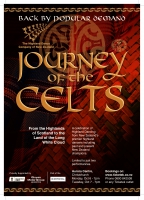 The Highland Dance Company of NZ along with regional dancers are performing two shows of the Journey of the Celts concert in Christchurch in October.

See poster for details on where to purchase tickets


Virginia Tattoo report omitted from August newsletter
Here is Cushla's report
Thursday 17th April had arrived and the weather around the country was not looking good. Several flight delays made us nervous that perhaps some of us would not make the 7.30pm flight out of Auckland to LA. Sure two were delayed from the top of the south and had to catch the 9.30pm flight. The trip across to our final destination of Norfolk, Virginia was a marathon. There was a 10 hour stopover in LA, onto Chicago where there was a 5 hour stopover and finally to Norfolk.
On arrival in Norfolk we went straight to Eleanor's studio for fittings for the various costumes. The next few days were all about practising and getting the two dances learned and perfected. We also practised at the Scope Arena. This is a huge imposing cultural, entertainment, convention and sports complex and the buzz that you get when it is full and the tattoo is in full swing is amazing and unforgettable. As well as all the practises the girls always found time to go to the mall and shop. Oh gosh the shopping!!! It never stopped.
On Sunday 20th Nina and Duffy took us for a trip around the Naval Base which is the world's largest naval station. It was an extremely interesting visit and we were very lucky to have this trip as an incident at the base two weeks prior to our visit had prevented visits taking place.
A few of the days had free mornings so some of the girls did their own practise for their NZ exams and Sherilyn and I did some theory with others. On another occasion some of us took a short trip on a paddle steamer over to Portsmouth a naval shipyard. A lovely little interlude taking us across the River Elizabeth. We spent about two hours roaming the tree lined main street, had lunch and travelled back on the paddle streamer. Some of the girls performed a couple of Sailors Hornpipe steps on the deck, much to the delight of other passengers.
Monday 21st was Brenna's birthday so after one of our many practises we celebrated with cake and a song.
One of the highlights was a visit to "Larchmont Elementary School". The team Leaders Mariel, Nicole and Tess were in charge and did a great job. The children really loved the display and also the time spent with them afterwards learning a little slice of the Highland Fling.
Another highlight was performing in the "Hullabaloo" A stage is set up outside the scope arena and performances take place on certain days. We gave the audience a taste of our Irish dancing. It was extremely well received.
On Friday 25th April a 5.15am wake-up call was organised as we were taking part in the Anzac Day Dawn Service at the General MacArthur Memorial Hall. After the service we were invited to the museum for what they called a "Gunfire Breakfast". Very nice it was too. As nothing had been organised for the playing of our National Anthem we made a very good job of singing it without any accompaniment. That evening at 7.30pm it was the start of all the big performances. 6,000 people filled the Scope Theatre. After Friday's performance Sherilyn and I together with Eleanor went to a social function which was attended by many of the dignitaries attending the tattoo. We took with us three girls from the team: Chelsea, Kate and Rochelle who were great ambassadors for the Academy.
Another Social function took place on Saturday night 26th and this time we took Tess, Nicole and Mariel our wonderful team leaders.
Sunday was our last day in Virginia and our last performance was a matinee one. It was a packed out attendance but also a performance filled with mixed emotion. The girls had worked so hard and their performances had grown in quality and confidence. They had formed great relationships with the American girls and it was all about to come to a close. The American girls were so embracing of us all and there were some many wonderful moments of enjoyment and laughter in each other's company.
We enjoyed a lovely meal together that evening at a steak house close to the hotel, a few speeches were made and farewells were full of excitement reminiscing about the wonderful time we had all experienced.
The next few days were all about Disneyland. What a blast, this was such fun. You certainly learn the art of queuing and the patience that is needed.
We also organised a bus trip which took us to downtown LA, Hollywood strip, the mansions of Beverley Hills and a drive down Sunset Boulevard. Once back from the trip we were dropped off at another mall for the final shopping spree. Was there any money left on the credit card, perhaps just a little!!!!
A word of advice from one who knows: never leave your party to go anywhere while in transit without your passport or boarding pass: never go through a revolving door when you don't know what is on the other side. Because guess what - you can't get back unless you stop shouting at security.
Cushla and Sherilyn.
Videos of our members dancing
The Executive is continuing to put together their archival list of early teachers in New Zealand and we are also wanting videos of our members dancing.

If you have any old videos of members that you would like to share with the Academy please send them to the Secretary so they may be copied and put into our archives.



Conference - Invercargill update
• Southland Teachers and Judges extend a warm welcome to everyone attending conference in Invercargill. We are well underway in organising a great weekend and look forward to everyone arriving.

• Please note that the Airport is currently under construction with baggage claim currently in a tent. Therefore it may be a good idea to have a polar fleece handy just in case we get some unseasonal (or seasonal) weather

• Registration packs will be available from the Ascot Park Hotel (conference venue) on Friday 19th from 2-5pm and then at Centre Stage (Solo Seal venue) from 5-6pm

• Solo Seal bus - please be ready at 5.15pm in the Ascot Park foyer for a 5.30pm sharp departure. Seats are reserved for all that have pre paid and additonal seats will be available on the day for $5 (exact cash required) limited spaces available. Folllowing Solo Seal please be on the bus 15min after the completion of the night to be returned to the Ascot.

• It is Election day on Saturday 20th September so please ensure that you have voted before you head to Invercargill


Congratulations to the NZ Championship dancers
The NZ Academy Executive congratulate all the dancers who participated in the New Zealand Championship weekend in Blenheim and we especially congratulate the top 10 dancers in each age group


Highland Dance Company of NZ - Journey of the Celts concerts - October 2014 - Christchurch
The Highland Dance Company of NZ in association with the Christchurch Body Festival will be performing two Journey of the Celts concerts on 07 and 08 October in Christchurch

Regional dancers are invited to participate in the concerts - See Downloads for the application form

Applications close 14 July

If you require any further information please contact Julie Hawke - julie_hawke@xtra.co.nz
Virginia Tattoo video clip
Here is the link to the Virginia Tattoo video clip - made by Mariel Schroder

https://www.youtube.com/watch?v=Wrmxqtkaq6c&feature=youtu.be