Christchurch dancers performing at the Cricket World Cup opening ceremony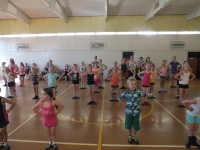 Over 40 members of the "Christchurch Junior Dance Group" let by Danitta Findlay and assisted by Elizabeth Smith have been working hard for the last two weeks putting the finishing touches on their choreographed item "Celtic Dawn" .
The group have learnt, perfected and performed Celtic Dawn over the last 12 months and have danced at concerts, cultural festivals, competitions, on What Now TV and have even had their photo on the front page of The Press.
This week they are performing along with Senior Dancers for their biggest crowd yet at the Opening Ceremony for The World Cup Cricket. They have to attend a rehearsal on Tuesday evening and then a full Dress rehersal on Wednesday night ready for the big show on Thursday night. Keep an eye out for them during the coverage on TV.



Hawkes Bay Summer School
Our three day summer school was held at 'K Studio' in Havelock North on 17-19 Janruary 2015. We had 28 entried in total and the tutor was Mrs Kimberley Mavor from Oamaru. We offered age group dance classes and had dancers from Wellington, Tauranga and Hawkes Bay attend. We offered a $50 scholarship for each class which was presented by Mrs Mavor on the last day.
Winners were
Under 10 Junior - Haylee Barker
Under 10 - Ava Woodbury-Rinkle
10-14 - Tesca Edwards
14 and over - Jessica Miller



May Exam Entries
Reminder that exam entries close on 1 March.

Entry forms are available from the downloads section on the website.
Summer Fling 2015 fun video
Here is the link to the video that was taken at Summer Fling

https://www.youtube.com/watch?v=8S5O90AFV9E

Auckland Summer School
Tutors were Mrs Robyn Simmons and Mrs Pamela Fleming.
Students attending came from Christchurch, Palmerston North, Hawkes Bay, Bay of Plenty, Waikato and Auckland areas.
Scholarships awarded in 2014 were taken up by Imogen Grayson and Ariah Mandeno and Auckland Teacher's & Judges Association awarded scholarships to Kate Lee and Ella Twiss.
Summer Fling 2015
Mrs Sherilyn Hall, Mrs Susan Edwards, Mrs Kim Mavor and Mrs Jacqueline Seque. Mrs Jacqueline Jones tutors two Junior Dance classes, Miss Lana Donaldson took the Junior fun class and Mr Michael Gudgeon tutors two 11 & over Stretch classes.
The following students were awarded $50 Balmoral Club scholarships by the tutors of the Examination classes
Initial - Lulu Steel - Christchurch
Preparatory - Isabella Inglis - Ashburton
Grade 1 - Sarah Jamison - Oamaru
Grade 2 - Alesha Keenan - Peel Forest
Grade 3 - Tassilo Abbot - Tuatapere
Grade 4 - Hannah Sangster - Lumsden
Grade 5 - Lucy Palmer - Nelson
Elementary - Kate Booker - Rakaia
Intermediate - Demi de Kruijf - Winton
Advanced - Sophie Sangster - Lumsden
The swimming pool was in constant use during the dancers class breaks
Dance Company North Island Tour Regional dancer application form
The application form for regional dancers is now available from the downloads section.

Applications are welcome from dancers from any region as long as they are prepared to attend the workshop and rehearsals in Auckland

Applications close 06 February 2015



Dance Company North Island Tour
Executive advise that due to unavailability of suitable venues and overall numbers, we are unable to proceed with concerts in the Palmerston North/Hastings/Napier area. However, there will be three concerts in Auckland on the 10/11 of April and we would welcome your participation in these.

Rehearsal dates are 21/22 February in Auckland and all dancers would need to be in Auckland on the 7th and 8th of April for rehearsals with the Dance company. Transport and accommodation will be at the dancer's expense.

Application Forms will appear on the Website within the next two weeks.