Virginia day 13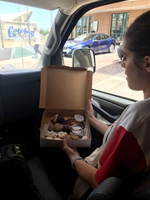 This morning we all got a well deserved sleep in prior to the second to last show. With plenty of free time before meeting at either 11:30 or 12:30, we got time to stroll along Virginia beach, study exam theory, pack up our suitcases and some even decided to brave it in the sea! However, those meeting at 11:30 jumped into vans and had a quick last shop in an outlet mall which has been well visited by all of us kiwis!
At 12:30 a van filled with those who felt they'd done enough shopping, were picked up by Duffy and treated to a box of goodies from a bakery which donates funds to mentally handicapped people. After a short trip back to the scope arena, we split up to collect some lunch before meeting with the shoppers at 2.
Once we had collected lunch and returned to the scope arena, the team got ready to perform the hullaballoo sequence for those watching the pipe band competition. The audience loved our flash mob finale!!! We all relaxed for a bit and then performed in the afternoon Hullabaloo. After another short break to grab some dinner, the team returned to get ready for tonight's performance. The audience was highly energised in this full house performance, and we all had a great time performing our dances in front of this crowd. Time to be off to bed for another busy day tomorrow!
Thanks for reading,
Hannah Robinson and Brooke Kingsbury