Lorient Festival day 7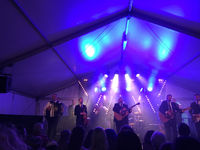 Our festival performing officially over, today the team had a lazy start and then took the opportunity to really enjoy Lorient & the festival without having to worry about looking after our legs for more dancing!

Everyone made the most of the buzzing Celtic vibe, heading off to watch other performers. Off course, there had been minimal shopping time till now so there was some of that done too!

Some of the dancers & supporters visited the La Base submarine base - a Nazi megastructure, the largest they built outside Germany during WWII. We went onto one of the submarines which really made us appreciate the tight living quarters those working on it lived in for 6 weeks or more at a time. It was humbling to learn the history of Lorient during the war - the city was completely flattened as the allies tried to cut off German infrastructure to the submarine base. Quite astounding that the whole city has been rebuilt to replicate it's pre-war look.

In the evening we went to enjoy one of the bands we had traveled with on out bus trip from Paris to Lorient, Murphys Pig. They loved having us up the front of their 'mosh pit' dancing to every tune! We even did a rendition of Settlers Ceilidh!!

Later on our interpreters took us to the Bretagne tent to do some traditional Breton dancing. They were astounded at how quickly we got the gist of it & think we know it better than them now! The dance floor was packed - everyone just gets up & muscles their way into the circle to join in!

We are looking forward to another relaxing day in Lorient tomorrow before heading on to Paris on Sunday.

Au revoir!