Lorient Festival Day 2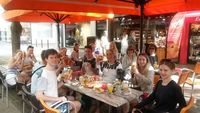 Finally after a good sleep horizontally the Dance Company took the morning to explore Lorient. We managed to order ourselves breakfast, delicious French croissants and baguettes and look around the city.
We are perfectly located with the stadium right next door and the festival tents only a short walk away.
After a bit of exploring and our first taste of French cuisine we rehearsed for a few hours.
Everyone is starting to use a little French although Sara got slightly confused between French and Italian and wondered why she was being laughed at. We have been allocated two interpreters which should help (especially Sara) in the future.
Everyone is still tired after a long trip and rehearsals, however we are looking forward to the festival starting.

Sarah Robson & Megan Ferguson