Cushla Piesse - Life membership Balmoral Club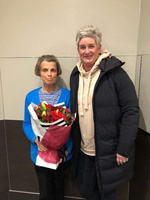 The Christchurch Balmoral Club recently held their 55th AGM. There was an amazing turnout from our Teachers and Judges which included welcoming 4 new members.
It was also a time to celebrate the clubs newest life member –Cushla Piesse MNZM . Cushla has been a dedicated member of the club and it was a privilege to present her life membership in honour of her many years service. Congratulations from all of us.