Thank you Tattoo Dancers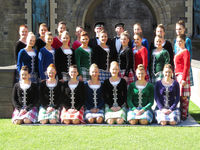 The Edinburgh Tattoo has finished all too soon but has left us all with wonderful memories of a spectacle of such colour and diversity. So much effort goes into the preparation behind scenes to ensure the public witness a performance befitting military precision.

Our 25 dancers formed part of the highland dance group which was made up of 20 dancers from Scotland, and 25 from Scot Dance in New Zealand. Our dancers had the privilege of being led by Aileen Robertson from Scotland and Cheryl Roche from Sydney who outlined the importance of developing a team culture and working together. There was a lot to get right in such a short time, and Aileen and Cheryl, whilst exacting, provided the necessary encouragement to ensure the items were of the highest standard.

We had to call in new dancers to fill the place of two dancers who had to withdraw from injury, so they had little time to prepare and learn the steps required. However, all dancers made it and grew in confidence as the practices progressed to the actual performances.

Each night the performances got better as the dancer's confidence rose to the occasion of performing for so many people. The weather on the final night was amazing with not a breath of wind – a contrast to the wind on the first night.

The dancers led the cast party with lots of modern and traditional dance moves to recognised hit tunes. It concluded as it started with military precision and was a memorable scene.

Thank you dancers, the Academy, your family and friends are very proud of you.