Christchurch dancers performing at the Cricket World Cup opening ceremony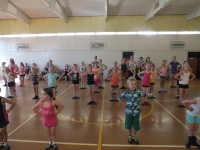 Over 40 members of the "Christchurch Junior Dance Group" let by Danitta Findlay and assisted by Elizabeth Smith have been working hard for the last two weeks putting the finishing touches on their choreographed item "Celtic Dawn" .
The group have learnt, perfected and performed Celtic Dawn over the last 12 months and have danced at concerts, cultural festivals, competitions, on What Now TV and have even had their photo on the front page of The Press.
This week they are performing along with Senior Dancers for their biggest crowd yet at the Opening Ceremony for The World Cup Cricket. They have to attend a rehearsal on Tuesday evening and then a full Dress rehersal on Wednesday night ready for the big show on Thursday night. Keep an eye out for them during the coverage on TV.