Virginia tattoo day 14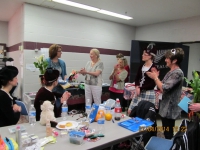 Day 14 - The last day of our trip
Hello all Academy members, parents and friends. Sadly the 2014 Academy Dance team's visit to Virginia, Los Angeles and Disneyland has come to an end. We have been incredibly proud of our team members during this trip and the Academy can be equally as proud of how the girls conducted themselves and performed throughout their time away. We have had some wonderful experiences and will have many stories to tell. Now as we all depart and leave for home we as chaperones say a big thank-you for their co-operation throughout the tour. We too have had a wonderful time and enjoyed supporting the girls. Thank-you to everyone who has made this tour possible. The last day at Disneyland was extremely hot but did not deter anyone from having another fantastic day.
Sherilyn and Cushla.