Virginia tattoo day 8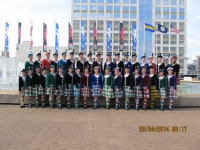 We had a early start at 5am to prepare ourselves for the dawn service for Anzac day, gathering with the Aussies at the MacArthur memorial where Mac Arthur and his wife were buried. It was a lovely service apart from the fact they must have forgotten that we were coming and didn't play our national anthem, so we had to sing it. The service was followed by a yummy breakfast.

For the evening show Elenor came up with a brilliant idea of wearing our poppies on our highland jackets, when one American dancer asked what Anzac stands for, a group of dancers explained to her with one New Zealand dancer saying "I didnt even know that", so news travelled fast amongst the pipe bands and then a piper came to our dressing room and played our national anthem seeing as we were forgotten about at the dawn service.

Later that night, the 18 and overs as well as all the American dancers, had a fun night out at 'the Banque' which was a country line dancing bar, while the under 18's had an early night in.

Written by Lisa Claridge and Jessica Miller.