Christchurch Getting Started In Dance Candidates Receive Their Teddies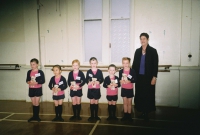 For the first time The NZ Academy of Highland & National Dancing have given Teddies and badges for the candidates in Getting Started in Dance and Lets Dance Assessments.
These have been very well received by the candidates, parents and teachers.
Pictured is Examiner Mrs Janet Allison (Lower Hutt) presented Christchurch candidates with their teddies.